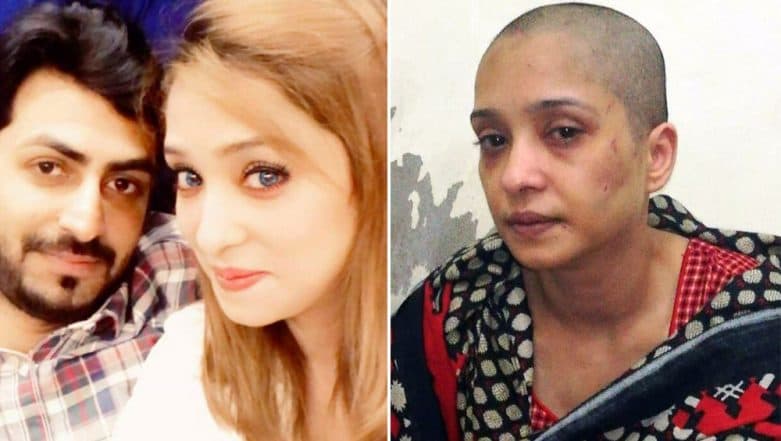 In a shocking case of extreme brutality from Pakistan, a woman called Asma Aziz from Lahore was allegedly brutally tortured by her husband and his employees. Her head was also shaved over not dancing for them. Asma recorded her statement before a judicial magistrate in Lahore. The 22-year-old mother uploaded a heart-breaking video where she told how she was tortured and humiliated by her husband and his friends. Asma said in her statement: "My husband brought two of his friends over to our house and asked me to drink alcohol and dance for them. When I refused, my husband, Faisal, tied my feet and started to torture me."
Asma said in her statement that three employees namely Rashid, Amjad and Farzana were present at their residence at the time of the incident. "When I tried to run out of the house, my husband hit with a manhole cover. My husband shaved my head. My friend came over and took me to the police station. When we asked the police officials to conduct a medical examination they asked for Rs5,000."
Here's a video of Asma telling her ordeal is going viral on Twitter: 
#AsmaAziz woman in #Lahore was allegedly tortured & her head was shaved by her husband after she refused to dance in front of his friends. Asma claimed that her husband Faisal & his friends beat her with pipes, shaved her head, threatened to strangle her when she refused to dance pic.twitter.com/mJlXK00ns9

— Ghulam Abbas Shah (@ghulamabbasshah) March 27, 2019
Asma also stated before the magistrate: "The police neither gave a report nor conducted a medical examination. I walked out of the police station crying as they did not cooperate"
Here's a news video detailing the crime:
Asma's husband, Faisal is detained suspect, and claims that he and his wife Asma were addicted to drugs. He further says that he and his wife were addicted to drugs and that they were not in their senses when the incident occurred. Other shocking details that he gave was that they were taking ice heroin and usually keep fighting on domestic issues. Police have arrested Asma's husband after Asma filed a case against Mian Faisal.