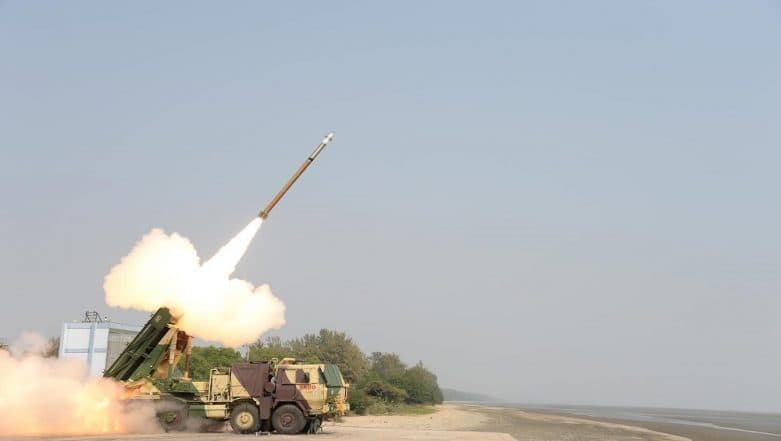 New Delhi, March 12: A day after carrying out the successful trials of two extended range rockets using the Pinaka guided missile system, India on Tuesday complete the third successful round of trials. The tests were conducted in Rajasthan's Pokhran today by the Defence Research and Defence Organisation (DRDO).
On Monday, the two rockets test-fired by the DRDO signalled a major boost in the country's artillery. Both the rockets precisely struck at the intended target located at a distance of 90-km. In comparison, the DRDO had achieved a 70-km precision in the last trials of Pinaka missile in May, 2018.
Watch Video of Third Trial of Pinaka Guided Missile at Pokhran Today:
#WATCH India successfully carried out third trial of Pinaka guided missile at Pokharan (Rajasthan) today. Two trials were conducted yesterday. pic.twitter.com/1glOwNYA1e

— ANI (@ANI) March 12, 2019
Following the trials on Monday, the government had issued a statement claiming that the successful test-fire has boost the artillery strength of the nation.
"DRDO today successfully test fired the Guided PINAKA from Pokhran ranges. The weapon system is equipped with state-of-the-art guidance kit comprising of an advanced navigation and control system. In both the missions, the weapon systems impacted the intended targets with high precision and achieved desired accuracies," said the statement issued on PIB.
"Telemetry Systems tracked and monitored the vehicle all through the flight path. All the mission objectives have been met. The indigenously developed Guided Pinaka by DRDO will significantly boost the capability of the artillery to make precision hits," it further added.
Pinaka has been developed jointly by the Armament Research and Development Establishment (ARDE), Pune, the RCI, and the Defence Research and Development Laboratory (DRDL), Hyderabad, for the Indian Army. The PXE, Chandipur, provided the range and launch support.
During the 1999 Kargil war, the Pinaka guided missile system proved lethal, as the Indian Army used the same to strike down several Pakistani posts stationed at mountain tops.