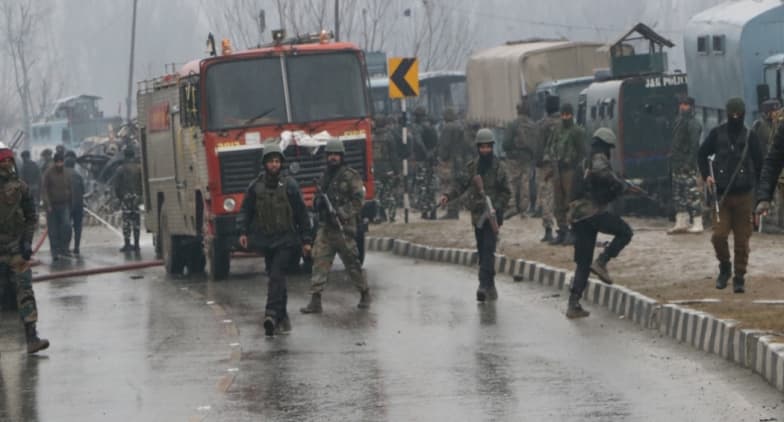 Jammu, June 18: Two army personnel out of the nine injured in improvised explosive device (IED) attack in Pulwama on Juen 17, have succumbed to their injuries. The two jawans, who lost their lives, have been identified as Havildar Amarjeet Kumar and Naik Ajit Kumar Sahoo. A total of nine jawans had suffered minor injuries after militants attacked their truck with an car-borne IED in Jammu and Kashmir's Pulwama district on Monday. According to details by Police, the nine injured soldiers were rushed to army's base hospital in Srinagar. Following the attack, security forces immediately reached the explosion site and cordoned off the area for searches and launched a manhunt to locate the owner of the explosive-laden vehicle.
The attack on an army vehicle comes days after Pakistan shared an intelligence input with India that terrorists were planning to carry out a vehicle-based explosive attack on security forces in south Kashmir. According to a report by IANS, the intelligence input had said Al Qaeda terrorists were planning to avenge the killing of Zakir Musa, chief of Ansar Ghazwatul Hind (AGH), a proclaimed Al-Qaeda affiliate, by the security forces.
Here's the Tweet:
Jammu & Kashmir: Two army personnel who were injured in IED attack on a mobile vehicle patrol of 44 RR in Arihal, Pulwama yesterday, have succumbed to their injuries. (File pic) pic.twitter.com/ukbeHnu26z

— ANI (@ANI) June 18, 2019
Indian Army: Havildar Amarjeet Kumar (pic 1) & Naik Ajit Kumar Sahoo (pic 2) who were injured in an IED blast at Arihal, Pulwama yesterday, succumbed to their injuries, today. pic.twitter.com/96wWS7tOc3

— ANI (@ANI) June 18, 2019
Defence spokesman, Col. Rajesh Kalia was quoted by IANS saying that a failed attempt was made to attack a mobile vehicle patrol of 44 Rashtriya Rifles with a vehicle-based IED while the army patrol was moving in the general area of Arihal in Pulwama on Monday evening. Preliminary reports on Monday claimed that militants exploded an IED under a Casper vehicle, extensively damaging it, as an army convoy passed through Arihal village. However, the army clarified that the damaged vehicle was not a Casper, but an Ashok Leyland Stallion truck.