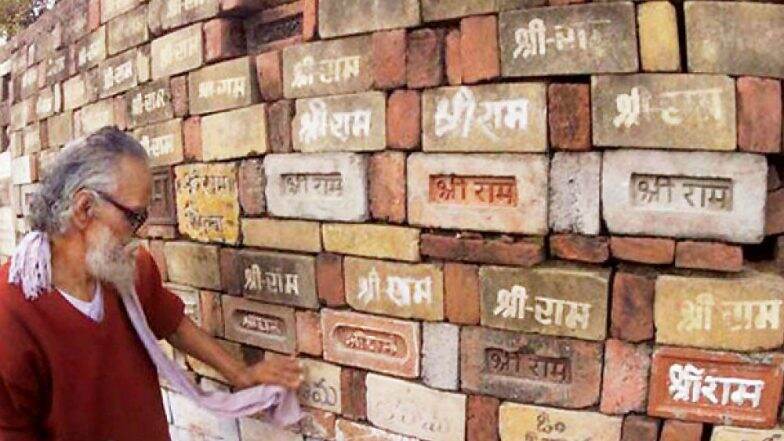 Lucknow, August 19: The Uttar Pradesh government, led by Chief Minister Yogi Adityanath, has hiked salaries of Ram Lalla and head priest and staff of a makeshift temple built at the Babri Masjid-Ram Janmbhoomi disputed site in Ayodhya. The UP government raised the monthly allowance of Ram Lalla, an infant avatar of Lord Ram, from Rs 26,200 to Rs 30,000. It fixed the salary of Satyendra Das, the caretaker priest, at Rs 13,000.
Das would get Rs 8,480 as monthly pay. The Yogi Adityanath government also announced a hike of Rs 500 in monthly salaries of staff members of the makeshift temple. Their salaries range between Rs 7,500 and Rs 10,000. The monthly allowance for bhog (prasad) has been increased by Rs 800. Since the demolition of Babri Masjid in 1992, the caretaker priest has been taking care of Ram Lalla and the makeshift temple premises. Ayodhya Act 1993: When Congress Passed Law For Construction of Ram Mandir And BJP Opposed it.
According to Das, the hike announced by the Yogi Adityanath government is the highest ever raise since 1992. Das's starting salary was Rs 150. "We would be happy with even a small hike since we spend on puja items and incur daily expenditure. We requested a raise in allowance in July this year and this has been approved for the staff and Ram Lalla. The government's communication reached us five days ago," the caretaker priest was quoted by TOI as saying. Ram Mandir Via Ordinance or Law: Will Modi Government Adopt Somnath Route For Ayodhya?
Ayodhya divisional commissioner Manoj Misra said the salary hike would have no impact on the hearing in ongoing Babri Masjid-Ram Janmabhoomi title dispute case in the Supreme Court. The state government pays salary to Ram Lalla for expenditure on prasad, clothes, bathing and electricity and water supply for the makeshift temple.