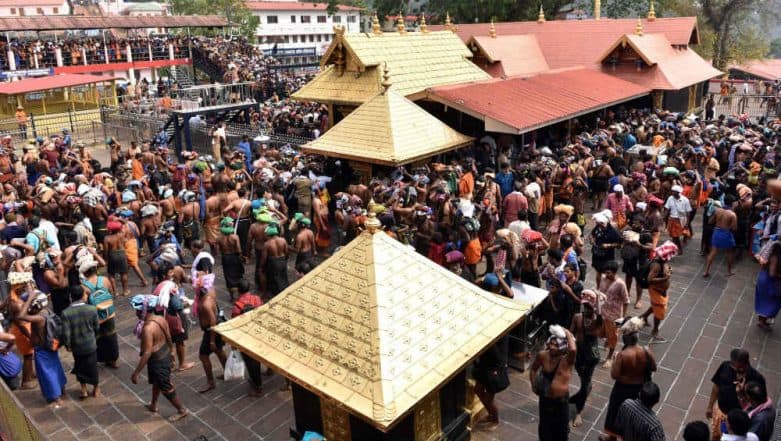 Thiruvananthapuram, January 11: National Ayyappa Devotees' Association (NADA) has filed an application in the Supreme Court seeking video-recording and live-telecast of proceedings of review petitions challenging its verdict allowing entry of women of all ages into the Sabarimala Temple. The constitution bench will hear review petitions on January 22. In October last year, the association filed a review petition in the top court.
Earlier this week, one more woman claimed that she had visited the holy shrine of Lord Ayyappa on January 8. She also claimed that she had not taken any help from police to visit the holy shrine. The woman was identified as 36-year-old Manju. Meanwhile, on January 2, two women identified as Bindu and Kanakadurga, visited Sabarimala temple. The women were reported to be in their late 40's. They started their climb around midnight and reached the hilltop shrine after 3:45 am and left after praying to Lord Ayyappa. They were accompanied by police personnel. They had made an unsuccessful bid to visit Sabarimala temple on December 18.
Traditionally, girls and women in the menstruating age group of 10-50 years were barred from offering prayers at the temple, the presiding deity of which is 'Naishtika Brahmachari' (perennial celibate). Kerala is witnessing a series of violent protest against the top court's verdict to allow the entry of women of all ages into the holy shrine. Till now, around 3,178 people have been arrested till now by the Kerala Police in connection with the violence across the state.