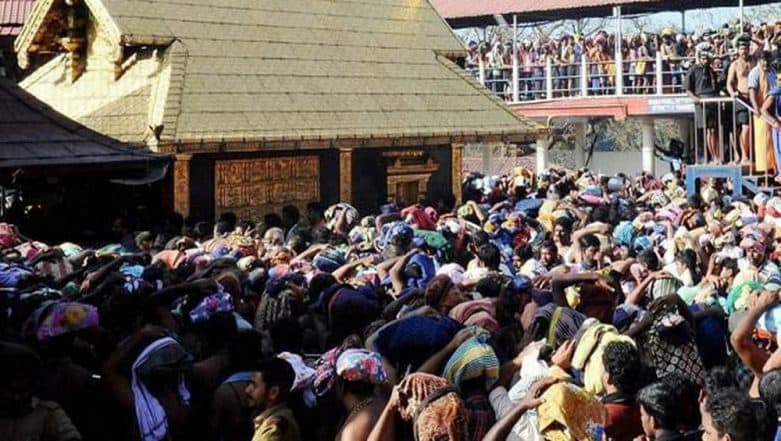 Nilakkal, October 20: High drama unfolded outside Sabarimala temple this afternoon when protesters stopped a woman from Tamil Nadu at entrance thinking she was under 50. They let her in after it was confirmed that she is 52. There have been protests outside Sabarimala temple against the Supreme Court's verdict allowing entry of women of all age in the hill shrine of Kerala.
Latha, a resident of Trichy who trekked up with her family carrying the traditional prayer kit irumudikkettu offered to Lord Ayyappa, was stopped by some protesting devotees at the entrance of Sabarimala temple. She, tears in her eyes, later showed her identity card to prove her age. "This is my second pilgrimage to Sabarimala. I came here last year too," she said. Sabarimala Devotees Visit Vavar Mosque Before Arriving at the Temple, Here Is Why.
Today is the fourth day since the temple was opened after the Supreme Court last month overturned a centuries-old ban on women between 10 and 50 years entering Sabarimala. No woman below 50 has made it to Sabarimala temple. Some women turned back midway to the hill shrine following massive protests by devotees.
On Friday, two under-50 women almost walked to history but had to turn back 500 metres from the 18 golden steps at Sabarimala temple after the protesters lay on the road leading to the hilltop temple. The head priest of Sabarimala temple (Tantri) on Friday threatened to shut the doors of shrine if there was any violation of tradition and faith.
The Pandalam Palace Trust also wrote a letter to functionaries of Sabarimala temple asking them to shut down the temple if any ritual was broken. The Pandalam Royal family, who claimed to have a strong bond with Lord Ayyappa, had earlier said that if all women are allowed to enter the temple, then the Lord would curse devotees with bad fortune.