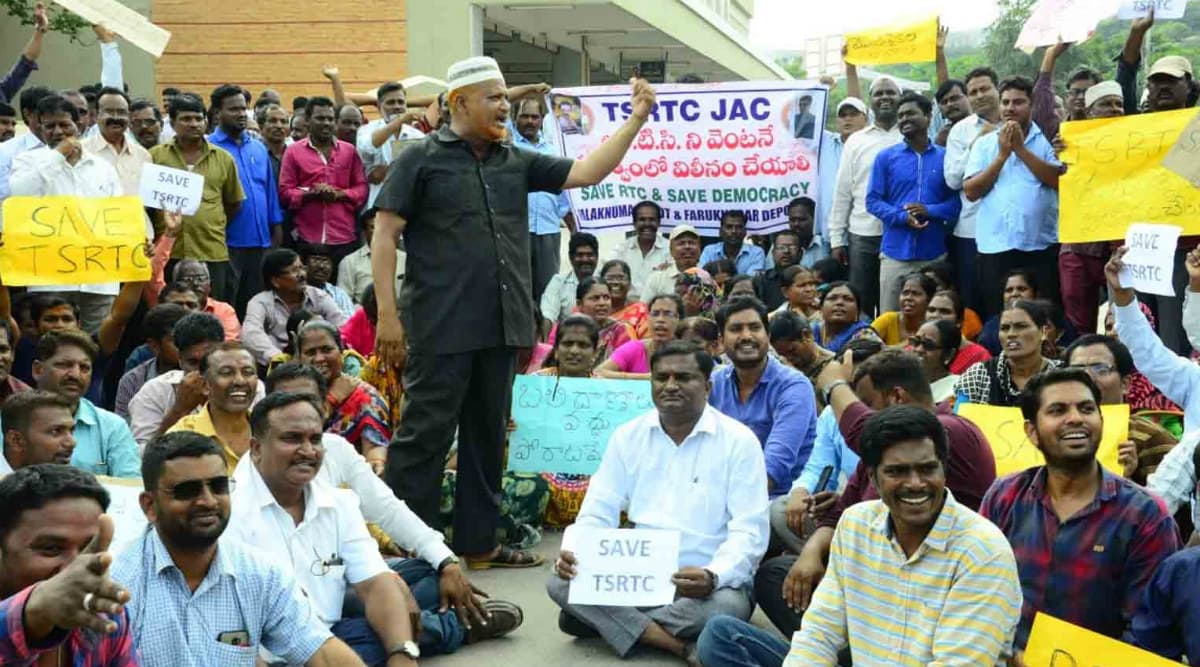 Hyderabad, November 20: After 47 days of agitation, the employees of Telangana State Road Transport Corporation (TSRTC) are likely to call off their protest. The Joint Action Committee (JAC) on Wednesday conveyed to the state government that they are ready to call off the strike, while appealing Chief Minister K Chandrasekhar Rao to re-employ the suspended bus drivers and other staff members. KCR Should Take Tough Stand on Public Issues, Not on TSRTC Strike: Congress.
The protesting body of RTC workers held a meeting today at the Mahatma Gandhi Bus Station (MGBS) in Hyderabad, where it was collectively decided to call off the agitation. Subsequently, JAC convenor Ashwathama Reddy issued a statement announcing that they are ready to call off the strike without any pre-condition.
The statement further appealed the government to take back the workers who have lost their jobs for participating in the agitation. The Chief Minister is also requested to facilitate an environment where the RTC employees can express their dissent.
Letter Issued by RTC JAC
After 48 days RTC JAC says they are ready to call off their strike and rejoin services. Will #Telangana Govt be ready to reconcile and take them back? The employees only demand now is to assure a pre-strike environment to employees. #TSRTCStrike pic.twitter.com/85niHXATlL

— Paul Oommen (@Paul_Oommen) November 20, 2019
Nearly 48,000 employees of the RTC were axed out by the KCR government last month after they went ahead with the strike at Dussehra despite the warning issued. The Chief Minister had subsequently initiated the process to privatise the TSRTC rather than addressing the demands of the protesters.
Notably, the strike was called by the employees to seek their salaries pending from September, and to press the government for hiring additional workforce as the bus drivers and conductors were forced to work double-shifts without offs. The protesters also demanded a rise in their wages, and the conversion of TSRTC into a complete state-owned body.