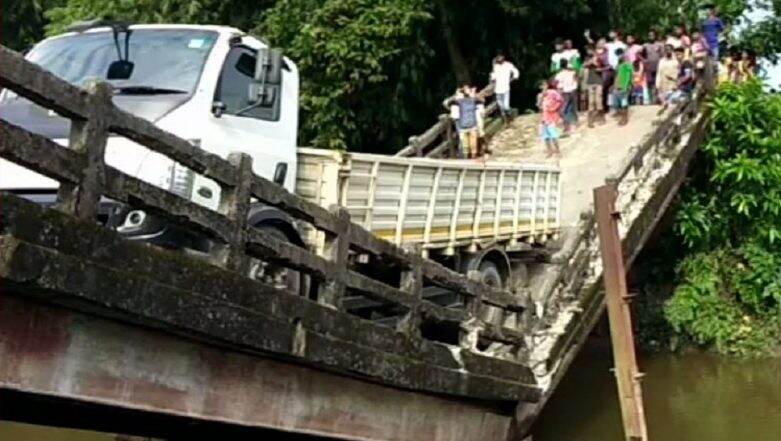 Kolkata, Sept 7: Three days after the Majerhat bridge collapse in South Kolkata, another incident of bridge collapse was reported from West Bengal in the early hours of Friday. This time, a canal bridge in Phansidewa of Siliguri partially collapsed while one large vehicle was plying over it. No injuries or casualties were reported in the incident.
On Thursday, West Bengal CM Mamata Banerjee said her government has identified 20 bridges in Kolkata and Howrah region which have passed their "expiry dates". Those which require immediate repair include Santragachi (Howrah), Ultadanga, Sealdah, Belgachia and Dhakuria.
While the Public Works Department (PWD) is working towards early renovation of the bridges, the traffic police will ensure that the trucks and large containers adhere to the nine tonne limit. "Some are plying with 15 tonnes of goods. I have asked the police to stop this practice," Banerjee said.
A canal bridge in Siliguri's Phansidewa collapsed early morning today. More details awaited. #WestBengal pic.twitter.com/pb542LHdqj

— ANI (@ANI) September 7, 2018
In the Majerhat bridge collapse on Tuesday, 2 persons was killed and 24 others suffered injuries. The government has announced Rs 5 lakh ex-gratia compensation to the immediate kin of deceased.
The Opposition launched a scathing attack on the Trinamool Congress government, accusing it of "neglecting" urban infrastructure which poses a risk to the lives of the common people.
"For the sake of people, she should forget her prime ministerial ambitions and pay heed to the massive issues faced by the people of Bengal," said BJP state unit chief Dilip Ghosh.
Banerjee, however, has put the onus of the erstwhile Left Front rule for the dilapidated condition of the state's infrastructure. "The weak bridges were not made under our tenure. Some of them were built under the CPI(M) rule and some even before," she said.
CPI(M) leader Sujan Chakraborty struck back saying that Banerjee cannot blame the Left for her misgovernance. "She has now been ruling the state for the last 7 years," he said.