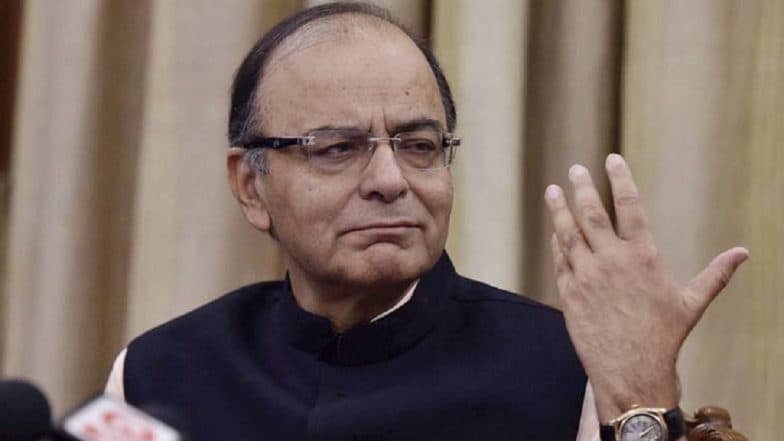 Delhi, August 24: Uttarakhand government has declared state mourning of a day following the death of union finance minister Arun Jaitley on Saturday afternoon. The nation will fly half-mast. The Bharatiya Janata Party (BJP) stalwart breathed his last at the All India Institute of Medical Sciences (AIIMS) after a brief illness at 12.07 pm. Arun Jaitley Dies: Harsh Vardhan Lays Wreath on Mortal Remains on Behalf of PM Narendra Modi.
Uttarakhand Chief Minister Trivendra Singh Rawat said that Arun Jaitley was a strong pillar of Atal Ji and Modi Ji's cabinet. "I am shocked by the news of the sudden demise of former Union Minister Shri Arun Jaitley. I Pray to God to place the departed soul at your feet. Jaitley Ji was a strong pillar of Atal ji and Modi Ji's cabinet. His lack of expertise on matters of economic, corporate, and law will be missed by the country," he tweeted. Jaitley Dies at 66: PM Narendra Modi Expresses Condolences, Says He Has Lost a Valued Friend
Trivendra Singh Rawat tweet:
पूर्व केंद्रीय मंत्री श्री अरुण जेटली जी के आकस्मिक निधन की खबर से स्तब्ध हूं। ईश्वर से प्रार्थना है दिवंगत आत्मा को अपने चरणों में स्थान दें। जेटली जी, अटल जी व मोदी जी की कैबिनेट के मजबूत स्तंभ थे। आर्थिक, कॉर्पोरेट, और कानून के मामलों पर उनकी विशेषज्ञता की कमी देश को खलेगी। pic.twitter.com/6RQtvVnbIm

— Trivendra Singh Rawat (@tsrawatbjp) August 24, 2019
Arun Jaitley's body will be cremated at Delhi's Nigam Bodh Ghat on Sunday. His body has been taken to his official residence in Kailash Colony. The former finance minister was admitted to AIIMS since August 9 after he complained of uneasiness. The BJP leader, who was also a senior Supreme Court advocate, was treated by a multi-disciplinary team of senior doctors.
In a brief statement, the hospital said that he died at 12:07 on Saturday afternoon. "It is profound grief that we inform about the sad demise of Arun Jaitley, former Finance Minister of Government of India, at 12.07 pm on August 24," the AIIMS said.