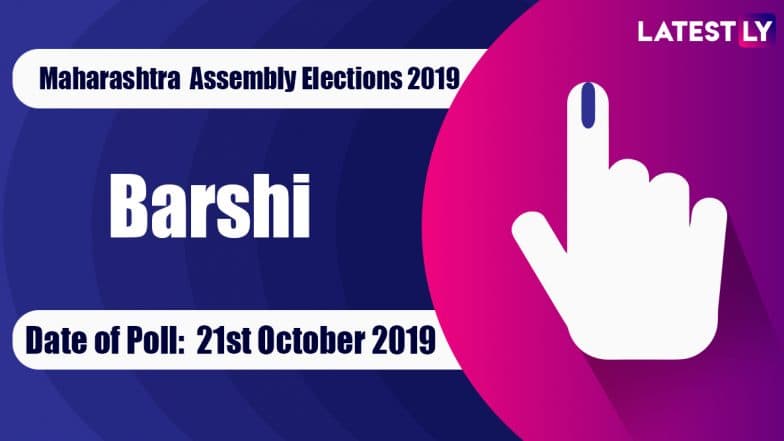 Mumbai, October 9: Among the 288 seats of Maharashtra scheduled to go to polls on October 21, include Barshi, the constituency located in Solapur district of the state. The seat falls in the Maharashtra State of Republic of India. The political battle here is primarily between the two major coalitions -- the ruling faction of Bharatiya Janata Party (BJP)-Shiv Sena and the Opposition alliance of Congress-Nationalist Congress Party (NCP). Results of the assembly elections in the seat, along with other assembly segments of Maharashtra, will be declared by the Election Commission on October 24. Madha Vidhan Sabha Constituency in Maharashtra: Sitting MLA, Candidates for Assembly Elections 2019, Results and Winners.
From the BJP-Shiv Sena camp, the candidate contesting from Barshi seat is Shiv Sena's Dilip Gangadhar Sopal. The Opposition has issued the ticket to NCP's Niranjan Prakash Bhumkar from the constituency. In the last assembly polls held in 2014, Dilip Gangadhar Sopal of National Congress Party (NCP) party had won the elections.
Ahead of the upcoming polls, pollsters have given the edge to the BJP in both Maharashtra and Haryana. In the latter, the party is predicting to win as much as 78 out of the 90 constituencies, as per one of the surveys. In Maharashtra, the BJP-Sena alliance is predicted to win upto 205-220 constituencies. Paranda Vidhan Sabha Constituency in Maharashtra: Sitting MLA, Candidates For Assembly Elections 2019, Results And Winners.
In the 2014 Maharashtra assembly elections, the BJP and the Shiv Sena had contested without a pre-poll alliance. The two parties ended up winning 123 and 63 seats, respectively. The Congress was restricted to 42 and the NCP managed to win 41 constituencies. Following the polls, the BJP and Sena came together to form the government.