New Delhi, January 8: The Lok Sabha on Tuesday cleared the legislation sanctioning 10 per cent reservation in government jobs and educational institutions to economically weaker sections among the upper castes. The Bill, which was tabled in the House by Union Minister for Social Justice Thawar Chand Gehlot, was passed with a brute majority.
Out of the 321 lawmakers who participated in the crucial vote, 316 voted in its favour, whereas, only 5 Members of Parliament voted against it. With the Constitution (124 Amendment) Bill, 2019 being cleared in the Lower House, it is scheduled to be tabled before the Rajya Sabha on Wednesday. Mayawati Slams Modi Govt Over 10 Per Cent Upper Caste Reservation.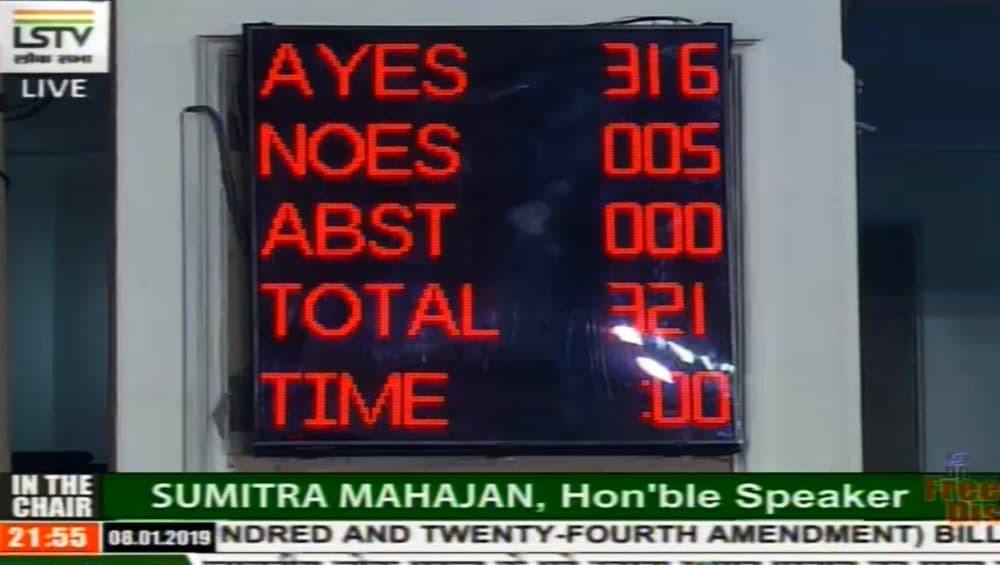 While presenting the legislation for vote, Gehlot appealed lawmakers cutting across party lines to extend support, claiming that the 10 per cent quota will go a long way in ensuring education and jobs to a section of population who are financially incapable, but are deprived of caste-based reservation.
According to estimates, the Bill is expected to benefit a population of 190 million categorised under the upper castes. The eligibility criteria includes: annual income below Rs 8 lakh, house smaller than 1,000 square feet and farmland less than 5 acres, among others. Members of all religious communities could avail the quota benefits, the legislation states.
Finance Minister Arun Jaitley, while speaking on the proposed law, said it would clear judicial scrutiny, as the Supreme Court has imposed a cap of 50 per cent on only caste-based reservations. Affirmative action could be implemented on economic grounds over and above the quota sanctioned to Scheduled Castes, Scheduled Tribes and Other Backward Classes, Jaitley claimed.
From the Opposition ranks, the Bill was supported by an array of parties, including the Congress -- but with a red-line. The two outfits demanded the government to send the legislation to a joint parliamentary committee to ensure it gets smoothly implemented after being enacted as a law.
"We support this quota bill, we are not against this, but the way it is being brought raises questions on your sincerity. My request is to send this to JPC first," said Congress MP K V Thomas.
The lawmakers of the AIADMK, however, opposed the Bill claiming that the reservation was granted to SC, ST and other backward groups due to the "historical injustice" which they have suffered.
For uplifting the economically weaker sections, the government should introduce other schemes and work on creating more job opportunities, said AIADMK MP Thambidurai. Taking a swipe at Prime Minister Narendra Modi, he said the legislation would not had been necessitated if "Rs 15 lakh would had been debited in each account".