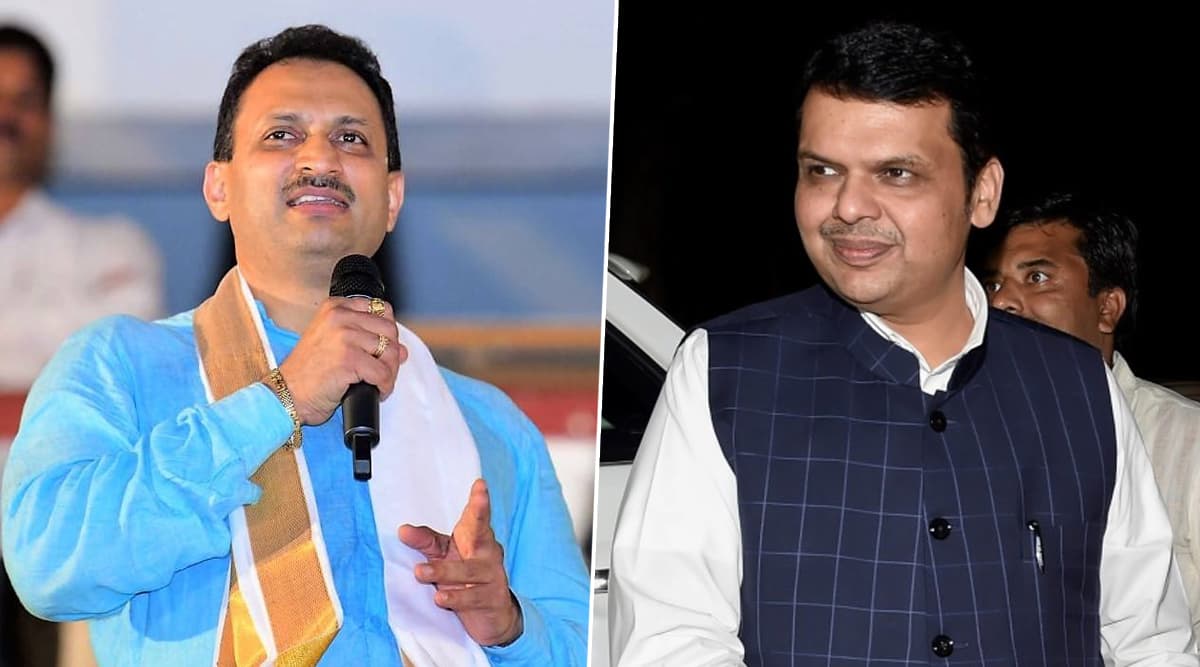 Mumbai, December 2: Former Maharashtra Chief Minister and Bharatiya Janata Party (BJP) leader on Monday rejected his party colleague Anantkumar Hegde's statement wherein he claimed that the state government returned Rs 40,000 fund to the Centre. In a sensational claim which turned into a political row, BJP MP Anant Kumar Hegde claimed that Devendra Fadnavis was sworn in as Maharashtra Chief Minister to prevent central funds worth Rs 40,000 crore from being misused.
Fadnavis, however, said that no such decision was taken during his 80-hour long stint as Chief Minister last month. "This is false. I outrightly reject this. No such major policy decision has been taken by me as CM," Fadnavis told reporters while reacting to Hegde's claims. "In the bullet train project, the state government is only responsible for land acquisition. No money was sent back to the Centre," he added. Fadnavis remained CM only for 80 hours after taking oath for the second time. Anantkumar Hegde Stokes Row, Says Nobel Laureate Abhijit Banerjee Wanted to Raise Taxes in India Via 'Pappu'.
Devendra Fadnavis Rejects Anantkumar Hegde's Claim:
#WATCH Former Maharashtra CM & BJP leader Devendra Fadnavis on Ananth K Hegde (BJP) remark, 'Devendra Fadnavis became CM & in 15 hours he moved Rs 40,000 crores back to Centre': No such major policy decision has been taken by me as CM. All such allegations are false. pic.twitter.com/wSEDOMGF4N

— ANI (@ANI) December 2, 2019
Addressing a gathering of BJP workers on November 29, Hegde claimed that Fadnavis became CM despite lacking majority support as part of BJP's "pre-planned drama". He added that the BJP knew that there was no majority in Maharashtra but the whole exercise was undertaken to save the central funds. "A CM has access to around Rs 40,000 crore fund from the Centre. He knew if the Congress-NCP-Shiv Sena government comes to power it would misuse funds meant for development," he said.
Anantkumar Hegde's Sensational Claim on Rs 40,000 Crore Fund:
Hegde, the BJP MP for Uttara Kannada in Karnataka, has had a track record of making controversial statements on various issues. In an early morning development on November 21 that stunned everyone, Fadnavis was sworn in as Maharashtra Chief Minister. It came just hours after the new alliance of the Shiv Sena, the Nationalist Congress Party and the Congress reached a consensus that Sena chief Uddhav Thackeray will be their chief ministerial candidate.
Fadnavis resigned on November 24 after the Supreme Court ordered Maharashtra Governor Bhagat Singh Koshiyari to hold the floor test in 288-member House. Subsequently, the Maha Vikas Aghadi, comprising the alliance of the Shiv Sena, the NCP and the Congress, formed the government.