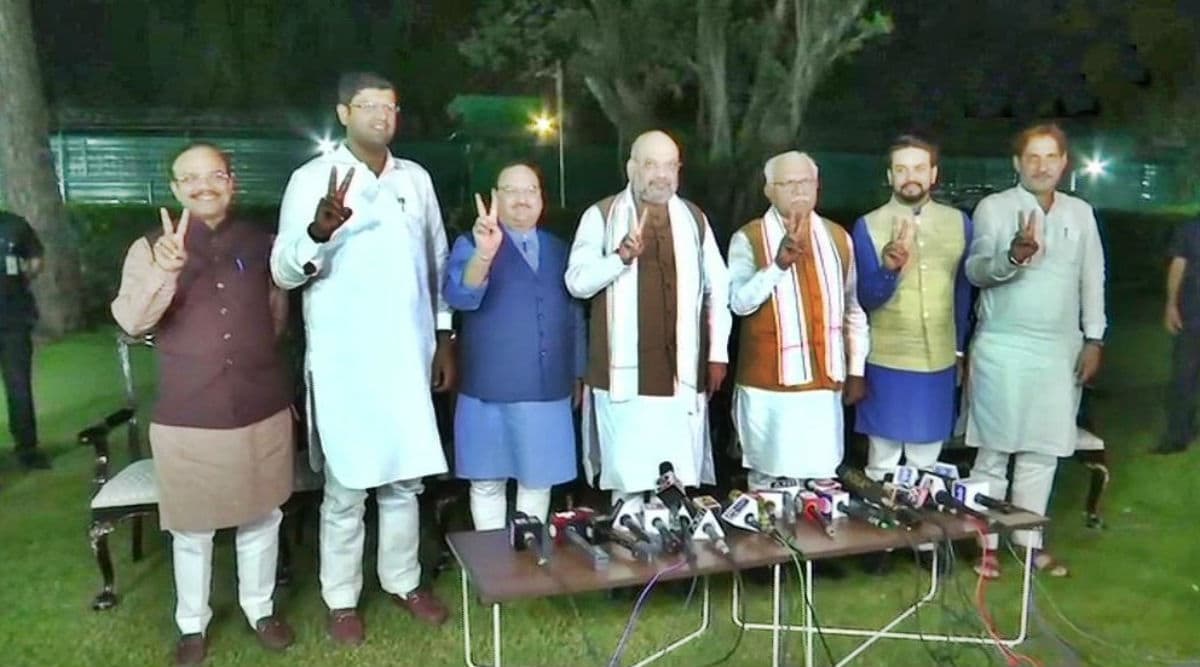 New Delhi, October 26: Leaders of the Bharatiya Janata Party (BJP) and Jannayan Janata Party (JJP) will meet Haryana Governor Satyadev Narayan Arya today to stake claim to form government in the state. BJP leader Manohar Lal Khattar will remain Chief Minister, while JJP chief Dushyant Chautala is likely to be Deputy CM. The swearing-in ceremony of ministers would take place after Diwali festivities. Haryana Government Formation: Congress Slams JJP After Dushyant Chautala Forms Alliance With BJP.
A day after the results of Haryana assembly elections were declared, BJP initiated talks with Dushyant Chautala's JJP. On Friday evening, BJP leader and Minister of State For Finance Anurag Thakur arrived at the residence of Dushyant Chautala at 18 Janpath in Delhi and then took him along in his vehicle to Union Home Minister and BJP President Amit Shah's residence where Khattar and JP Nadda were also present.
After a discussion, the leaders addressed a joint press conference where Shah announced BJP's alliance with the JJP. "The two parties have decided to form the government to respect the mandate of the people. It has been decided that the Chief Minister will be from the BJP and the Deputy CM from the JJP," he said. On his part, Dushyant Chautala said that his party has decided to support the BJP "for the stability of the government in Haryana".
In Haryana assembly polls, BJP won 40 seats, seven down from its 2014 total and six short of a simple majority in the 90-member House. The JJP, which is less than a year old, won 10 seats. The Congress, led by former Chief Minister Bhupinder Singh Hooda, improved its tally to 31. The Indian National Lok Dal could bag one seat. Eight independents, including Gopal Kanda, were also elected to the legislative assembly.
BJP Ditches Gopal Kanda:
Gopal Kanda, who won from Sira, offered his unconditional support to the BJP to form government in Haryana. However, the BJP decided not to include the Kanda's name in the list of MLAs supporting it, after an outrage. Kanda is accused abetting the suicides of his then airline's employee, Geetika Sharma, in 2012, and her mother early next year. The ruling party aligned with the JJP, dashing Kanda's hope for playing kingmaker. Who is Gopal Goyal Kanda? Know All About the Controversial Politician Who Won From Sirsa Assembly Seat in Haryana.
Congress Terms JJP BJP's B-Team:
Soon after Amit Shah and Dushyant Chautala addressed a joint press conference, Congress said that the JJP was and will remain the "B-team" of the BJP. Hitting out at BJP-JJP tie-up, Randeep Singh Surjewala said that it was now out in the open that the "JJP-Lok Dal (INLD) were, and will always be, the BJP's B-team".