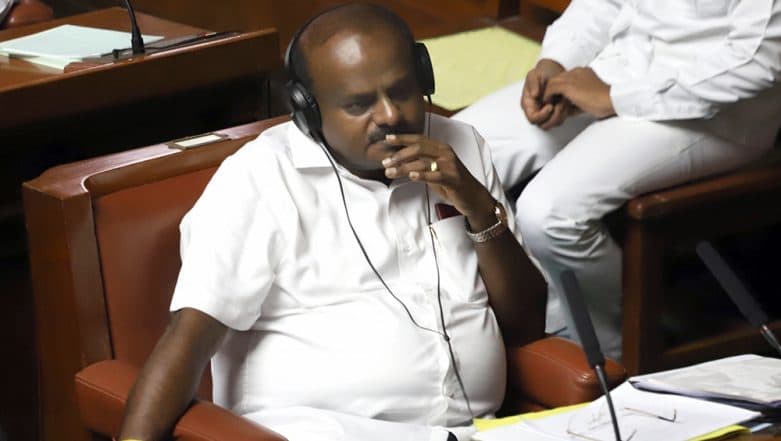 Bengaluru, July 23: Karnataka chief minister HD Kumaraswamy is likely to resign from his post if the Congress-JD(S) combine fails to prove majority in the Karnataka assembly during the trust vote. The Karnataka political drama in the Vidhana Soudha stretched for more than a week, as the HD Kumaraswamy government, surviving on wafer-thin majority, try to prove their strength in the floor test. Karnataka Trust Vote Today: Can HD Kumaraswamy Prove Majority of JDS-Congress Government? Here's What May Happen.
Several news reports and journalists covering the Karnataka political drama tweeted about the possibility of HD Kumaraswamy resigning from his post. The political crisis for the Congress-JD(S) combine began after 15 rebel MLAs resigned from the assembly. Karnataka Trust Vote: Assembly Speaker KR Ramesh Kumar Takes a Dig at Politics of Defection.
Read the Tweet Below
#Karnataka CM Kumaraswamy arrives at Secretariat. Speaker has order to wind up the discussion by 4 pm and complete #KarnatakaTrustVote. Sources say #HDKumaraswamy might deliver an emotional speech and resign today

— Mugilan Chandrakumar (@Mugilan__C) July 23, 2019
Earlier, Karnataka Assembly speaker KR Ramesh ordered the MLAs to wind up the floor test by 4 PM on Monday, which is impending since almost a week.
Karanataka Governor Vajubhai Vala had also ordered the completion of the trust vote on multiple occasions. However, that could not happen and the proceedings were shifted to Monday.
Now sources say that HD Kumaraswamy may resign after an emotional speech and BJP state unit chief BS Yeddyurappa may become the next chief minister of Karnataka.
The Karnataka assembly has 224 members. The majority mark is 113, excluding the Speaker who casts his vote only in the event of a tie. Before 15 legislators' resignation, Congress had 80 members (including speaker + nominated member) and JD(S) 37. The Bharatiya Janata Party (BJP) has 105 legislators.
Two independents (H Nagesh and R Shankar) and a BSP leader are also members of the House.
After the resignations, the strength of the Karnataka Assembly has reduced to 210, with the majority mark standing at 106. In the present scenario, Congress has 68 members and JD(S) 34. After the two independents decided not to support, the JDS-Congress strength has come down to 103 with support of lone BSP MLA. This makes it absolutely necessary for the JDS-Congress government to get the vote of the rebel MLAs, or else they lose the majority and HD Kumaraswamy his chief minister's seat.