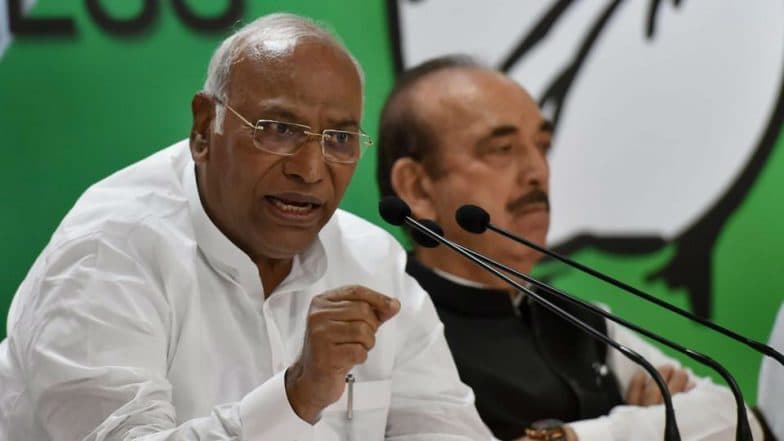 Bengaluru, July 7: With the coalition government being pushed to the brink of collapse in Karnataka, Congress' state in-charge Mallikarjun Kharge said the party is still in touch with the rebels and is attempting to pacify them. A "clear picture", he claimed, will emerge on July 12 when the Assembly session begins.
Kharge was rushed to Karnataka by the Congress top brass on Saturday, after the state government was stung by the resignation of 11 MLAs -- eight from the grand old party and three from ally Janata Dal (Secular). Three other legislators from the ruling camp had resigned earlier. 'Yeddyurappa to be Next CM if BJP Comes to Power'
With these resignations, effective strength of Karnataka assembly has been reduced to 212. The strength of Congress-JD(S) combine has also dropped to 105 -- one-mark below the halfway majority figure of 106. The alliance, however, is being supported by 1 BSP and 1 independent legislator.
The BJP, which also has 105 MLAs, has called upon the Governor to order a fresh floor test and call upon the party to form the next government in the state.
Senior BJP leader DV Sadananda Gowda, while denying his party's role in the exodus, said BS Yeddyurappa will takeover as the Chief Minister if they come to power.
Yeddyurappa, who has been charged by the Congress-JD(S) of engineering defections, denied any role. "The MLAs are leaving as they have realised that this government will fail to fulfill any of the aspirations of the people. I have not spoken to any (of the rebels)," he said.
Kharge, however, pinned the blame squarely on the BJP as well as Prime Minister Narendra Modi for the tethering condition of the Karnataka government. "They want to weaken every non-BJP government and usurp the regional parties," he said.