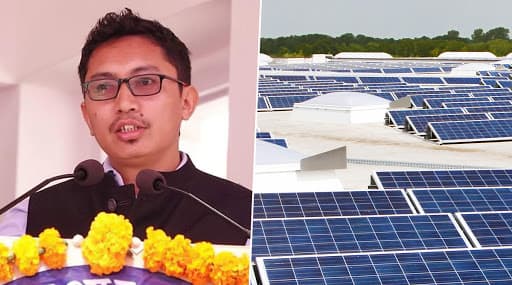 Ladakh, September 15: With the Narendra Modi government plans to invest USD 1.5 billion for setting up 175 GW of clean energy capacity by 2022 as part of Mega Renewable Energy Power Parks (UMREPPs), BJP MP from Ladakh Jamyang Tsering Namgyal on Sunday opined that the project can only go ahead if a portion of jobs are reserved for the locals and a land lease model is followed. Narendra Modi Govt Plans Ultra Mega Solar Parks at USD 1.5 Billion Each, Aims to Produce 175 GW of Clean Energy by 2022.
The Ladakh Lok Sabha parliamentarian welcomed the decision of the Centre -- Rs 50,000-crore mega solar power project in the region, however, wanted that it generates local employment. He said, as news agency PTI quoted, "Investments are essential to come from outside, I welcome those. But there are a few conditions – we can't give the land in your name, you will have to take it on lease and a portion of the jobs will have to be reserved for the local youth."
The Ladakh parliamentarian even opined that profit earned from the area by the investors should be given to to the council fund as royalty for ground development. He added, "The developmental model should be keeping in mind the fragile ecology of the region. We are not going to allow you otherwise." Subramanian Swamy, Modi Govt Widely Differ as Economic Crisis Deepens: Here's How The Ex-FM Has Critiqued The Handling of Economy So Far.
It is to be known that the Narendra Modi government had earlier announced that it had finalised a Rs 50,000 crore grid-connected solar photo-voltaic project for Leh and Kargil districts. This is considered as the single most significant investment proposal in the region since Ladakh was designated as a Union Territory. The Centre has even finalised Pang -- about 117 km from Leh -- as the revised site for a significant chunk of the 7,500 MW solar project. The project is being targeted for a tight 48-month commissioning deadline.