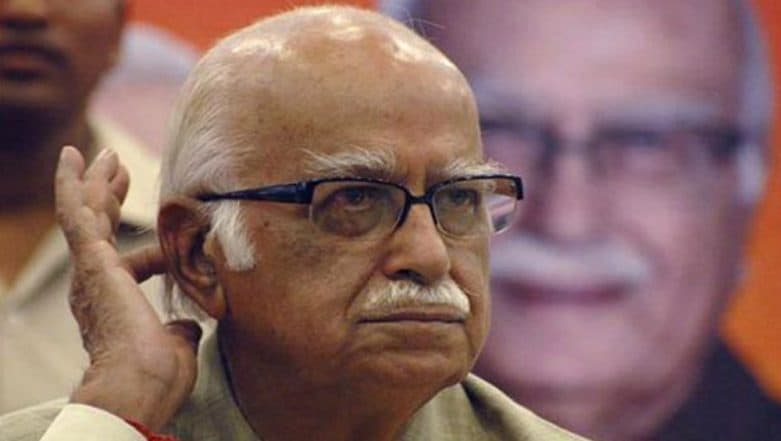 New Delhi, April 4: BJP patriarch Lal Krishna Advani on Thursday broke his silence and issued the first-ever statement after being denied ticket for the upcoming Lok Sabha elections 2019 by the party top brass. In what is been seen as a veiled jibe at the politics of nationalism, LK Advani said the party of which he is a founding member never used to consider political opponents as "anti-nationals".
Advani's blog comes two days before the BJP Foundation Day, celebrated annually on April 6. On this day, Advani, along with Atal Bihari Vajpayee, launched the Bharatiya Janata Party in 1984. LK Advani Dropped, Amit Shah Replaces Him From Gandhinagar.
Recalling the founding principles of the BJP, Advani said the political adversaries were never regarded by them as "enemies". His remarks come amid the Congress and the Left being charged by the party's incumbent chief Amit Shah and Prime Minister Narendra Modi of supporting the "anti-India forces".
"The essence of Indian democracy is respect for diversity and freedom of expression. Right from its inception, the BJP has never regarded those who disagree with us politically as our "enemies", but only as our adversaries," Advani said in his blog titled 'Nation First, Party Next, Self Last'.
"Similarly, in our conception of Indian nationalism, we have never regarded those who disagree with us politically as 'anti-national'. The party has been committed to freedom of choice of every citizen at personal as well as political level," he added.
The sidelined BJP veteran also recalled how "inner-party" democracy guided the BJP's vision.
"Defense of democracy and democratic traditions, both within the party and in the larger national setting, has been the proud hallmark of the BJP," the 91-year-old said.
Advani issued a call for introspection for all political parties, mass media, voters and other stakeholders in the upcoming elections. "True, elections are a festival of democracy. But they are also an occasion for honest introspection," the six-time lawmaker from Gandhinagar added.