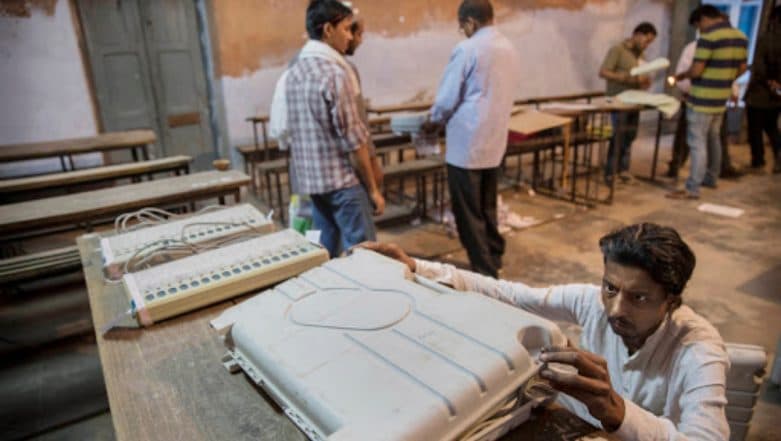 New Delhi, February 23: With political parties tightening their shoelaces for the upcoming mega challenge as Lok Sabha polls from next month, the Election Commission is also busy preparing the poll chart for 543 constituencies. As per the updated report, the EC is most likely to announce the poll dates by the first week of March. Along with the national election, the EC might announce the Assembly polls dates for the states of Andhra Pradesh, Arunachal Pradesh, Odisha and Sikkim.
Also, with Governor Satya Pal Malik dissolving the Assembly, elections in the state of Jammu and Kashmir might take place along with the General Elections. However, there is an uncertainty in Jammu and Kashmir simultaneously after the terror attack in Pulwama, in which 40 CRPF security personnel were killed. Lok Sabha Elections 2019 Schedule Likely To Be Announced By EC Between March 7 and 10, Dates For Assembly Elections 2019 To Be Finalised Too. 
There are other sources too, which says that the election conducting body might delay in announcing the dates, citing the Pulwana attack and Kumbh Mela – ending on March 4, 2019. Sources from the ministry opine that the elections might be announced on the second week, as reported earlier. Also, the poll conducting body might announce the dates for elections in nine phases, just like they did in 2014.
A report published in the Indian Express had stated that Prime Minister Narendra Modi is likely to chair a review meeting with chief secretaries of all the states on March 6. Also, this meeting is considered to be the last cabinet meeting of the Modi government before the polls.
Considering the Lok Sabha polls, the EC is most likely to use 22.3 lakh ballot units, 16.3 lakh control units and nearly 17.3 lakh VVPATs. As per the deadline, the term of the 16th Lok Sabha will end on June 3, while Andhra Pradesh and Arunachal Pradesh assemblies will end on June 18. Similarly, the terms of Odisha and Sikkim assemblies will expire on June 11 and May 27. Along with the VVPATs and other gadgets, deployment of security according to the requirement of the constituency is also being discussed in the Elections Commission.
Major think-tank and a US-based expert – Milan Vaishnav, senior fellow and director of the South Asia Program at the Carnegie Endowment for International Peace think-tank – opine that 2019 Lok Sabha Elections would be the most expensive in Indian history and perhaps one of the most expensive ever held in any democratic country. Lok Sabha Elections 2019 Could Be World's Most Expensive: Expert. 
He said, as PTI quotes, "The combined US presidential and congressional elections in 2016 cost USD 6.5 billion. If the 2014 Lok Sabha elections cost an estimated USD 5 billion, there is little doubt the 2019 election will easily surpass that — making India's elections the world's most expensive."