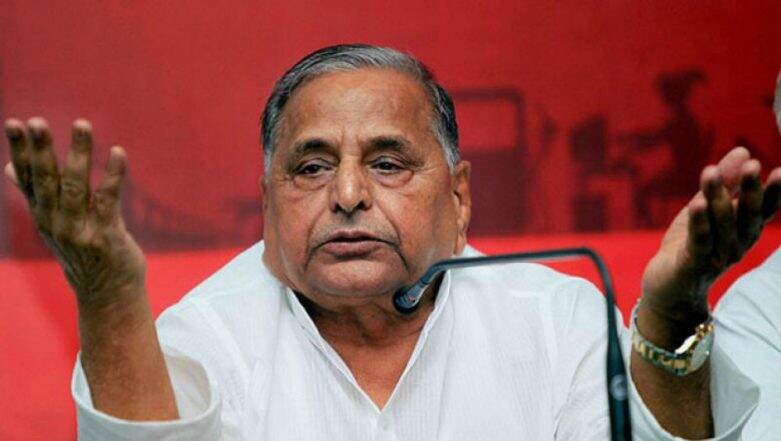 New Delhi, February 13: With just weeks remaining for the Election Commission to announce the dates to 17th Lok Sabha polls, the Bharatiya Janata Party (BJP) got a morale boost as Samajwadi Party (SP) patriarch Mulayam Singh Yadav lent his support to Narendra Modi for the post of Prime Minister. The dramatic turn-around of events comes on the last day 16th Lok Sabha session. During his departure note, Mulayam wished that Modi should become PM again. The SP stalwart also said that PM had done good work and nobody could raise a finger against him. Lok Sabha Elections 2019: Shivpal Yadav Questions Credibility of SP-BSP Alliance, Says 'Akhilesh Betrayed His Father & Uncle'.
When Mulayam praised PM Modi, United Progressive Alliance (UPA) chairperson Sonia Gandhi was sitting beside him. The SP stalwart's statement dropped a bombshell in the political arena. His statement comes at a time when his son Akhilesh Yadav announced an alliance with Mayawati's Bahujan Samaj Party (BSP) for the parliamentary elections against the BJP. Meanwhile reacting to Mulayam's statement, Congress president Rahul Gandhi said, "I diagree with him. But Mulayam Singh Yadav Ji has a role in politics, and I respect his opinion." Lok Sabha Elections 2019: Tejashwi Yadav Backs SP-BSP Alliance in Uttar Pradesh, Says 'Our Motive is to Defeat BJP'.
Rahul Gandhi's reaction on Mulayam's statement:
Rahul Gandhi on Mulayam Singh Yadav's remark in Lok Sabha, 'I wish you (PM Modi) become PM again': I diagree with him. But Mulayam Singh Yadav Ji has a role in politics and I respect his opinion pic.twitter.com/eZPscyzakL

— ANI (@ANI) February 13, 2019
Earlier, while giving a concluding speech on the last day of Parliament, PM Modi launched a scathing attack on the Congress. The Prime Minister also highlighted the achievements of his government over the five years. PM Modi said that the house the laws to fight the menace of black money and corruption.