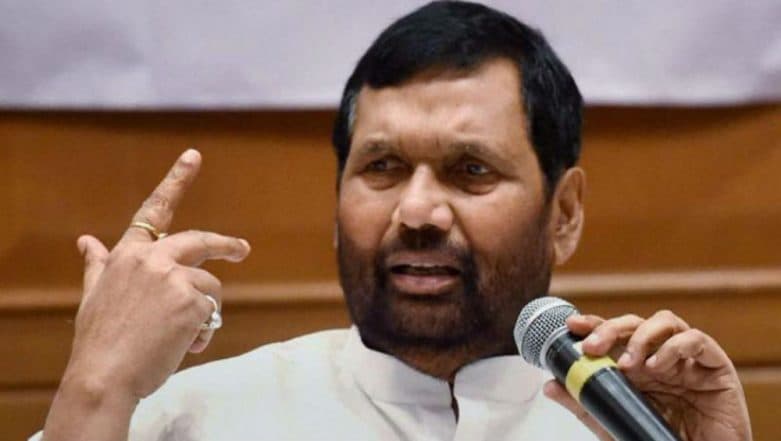 New Delhi, March 10: Union Minister Ram Vilas Paswan, who heads the Lok Janshakti Party (LJP), will not be contesting in the upcoming Lok Sabha elections 2019. The nine-time MP would instead be taking the Rajya Sabha route to the Parliament, confirmed his brother and Bihar State Minister Pashupati Paras.
Paswan currently represents the Hajipur seat in the Lok Sabha. The constituency was first wrested by him in 1977, winning it with a margin of over 4.24 lakh votes. Since then, Hajipur has remained his bastion. According to Pashupati, his elder brother will continue to nurture the seat despite not entering the polling fray. Bihar Lok Sabha Elections 2019 Schedule: Constituency Wise Dates Of Voting And Results For General Elections.
Pashupati, while speaking to reporters, said the decision to not to field Paswan in the upcoming polls was finalised by the LJP nearly two months ago.
According to reports, the LJP was asked to accept a future Rajya Sabha berth in lieu of ceding one additional seat to the BJP-JD(U) combine under the NDA seat-sharing pact in Bihar. The two senior allies would be contesting on 17 seats each, whereas, the LJP will be fielding its candidates in 6 seats -- one less as compared to 2014.
According to three major pre-poll surveys, the NDA is predicted to win 35 of the 40 seats in Bihar, whereas, the mahagathbandhan led by Congress-RJD combine would be reduced to 5 constituencies.