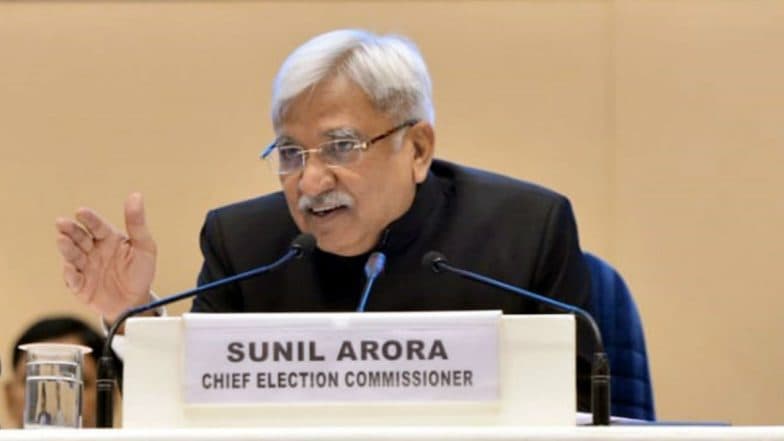 Mumbai, September 18: The schedule for Assembly elections in Maharashtra is likely to be announced by the Election Commission today. According to reports, Chief Election Commissioner Sunil Arora may hold a press conference in Mumbai and announce dates for the Maharashtra Assembly elections, due in October. It is speculated that since Maharashtra is the second largest state in terms of populations, Assembly polls would be held in two phases. Besides Maharashtra, Assembly elections are impending in Haryana and Jharkhand as well. Maharashtra Assembly Elections 2019: BJP-Shiv Sena Alliance Talks Go Awry Over Seat Sharing.
The term of Maharashtra State Assembly ends on November 9. The Election Commission has already sent a list of instructions to the Chief Secretary and Chief Electoral Officer of Maharashtra. The top officials have been directed to ensure that all government officers directly connected with conducting the elections must not have completed three years in their district in last four years or would be completing three years on or before October 31, 2019. Maharashtra Assembly Elections 2019: Congress-NCP to Contest on 125 Seats Each.
Several rounds of meetings between the Election Commission and state entities and Union Home Ministry officials had been held on security assessment and deployment of paramilitary forces during polls in the state. In 2014, dates for the Maharashtra Assembly elections were announced on September 20 and the voting took place on October 15. The results were declared on October 19.
In 2014, all four major parties - Congress, Bharatiya Janata Party (BJP), Shiv Sena and Nationalist Congress Party (NCP) - contested Assembly elections without forming an alliance. The BJP won 122 seats, whereas the Shiv Sena bagged 63 of Maharashtra's 288 seats. The Congress and NCP bagged 42 and 41 seats respectively. Bahujan Vikash Aghadi and the PWP won three seats each, while the AIMIM secured two seats.
The Election Commission is likely to announce dates for Assembly elections in Haryana as well. The term of Haryana State Assembly ends on November 2. The poll panel, however, may postpone polls in Jharkhand in view of the left-wing extremism in the state.