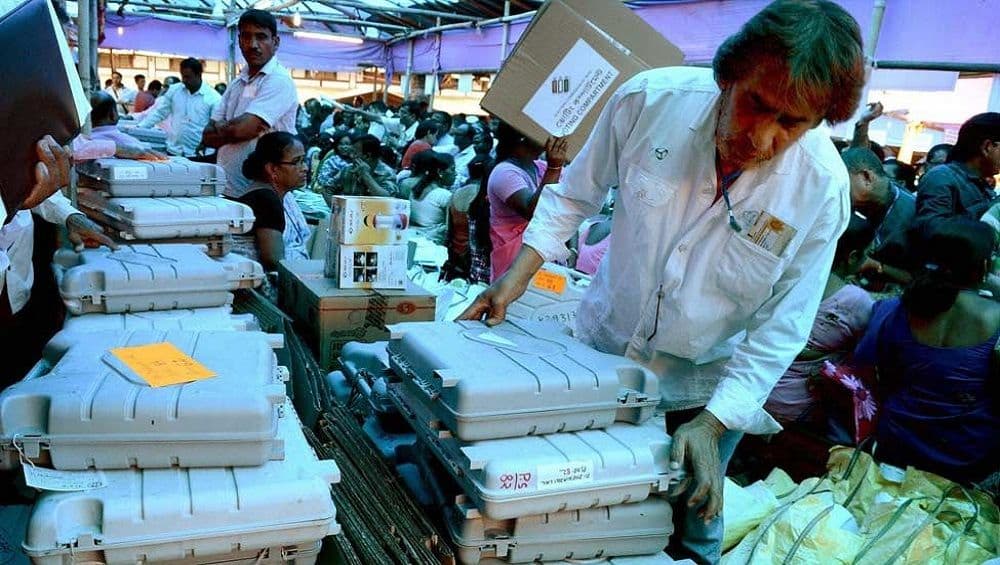 Mumbai/Chandigarh, October 24: Results of the high-stake assembly elections 2019 in Maharashtra and Haryana will be declared today by the Election Commission of India (ECI). The two states - both ruled by the Bharatiya Janata Party (BJP)-led governments - had went to polls in a single-phase on October 21. The saffron camps evidently holds the edge as the aggregate of all major exit polls had predicted a triumphant victory of the incumbents. Exit Polls Results 2019: Modi Wave Turns Tsunami? BJP Set For Historic Mandate in Maharashtra, Haryana Assembly Elections, Predict Surveys.
In Maharashtra - where the outcome of 288 seats will be declared today - the BJP had contested in alliance with its long-time Hindutva ally and coalition partner Shiv Sena. As per the pre-poll arrangement, the BJP had contested 162 seats, whereas, the Sena had fielded candidates in 126 constituencies. The two parties had also accommodated smaller allies on their tickets.
The BJP-Sena combine was primarily challenged by the Opposition alliance of Congress-Nationalist Congress Party (NCP). The Vanchit Bahujan Aghadi of Prakash Ambedkar and the All India Majlis-e-Ittehadul Muslimeen (AIMIM) of Asaduddin Owaisi were also predicted to be a play a key factor in a handful of constituencies.
In Haryana, the outcome of the poll battle turns intriguing in view of the exit poll released by India Today-Axis My India on Tuesday. Released a day after all other channels predicted a clean sweep for the Manohar Lal Khattar-led BJP, the India Today survey threw a spanner.
The exit poll has predicted a hung assembly in Haryana, with BJP winning between 32-44 seats, the Congress 30-42 and Dushyant Chautala's Jannayak Janta Party (JJP) bagging 6-10 constituencies.
All other exit polls, including ABP News-C Voter, News18-IPSOS, TV9 Bharatvarsh and Republic-Jan Ki Baat had predicted a decisive victory for the BJP. The aggregate of all polls predicted the party to win between 63-69 seats.
In Maharashtra, none of the exit polls had given the edge to the Opposition alliance. The aggregate of all major surveys had predicted the BJP-Sena alliance to win over 200 seats, whereas, the Congress-NCP was predicted to be restricted between 60-80 constituencies.
In the 2014 assembly elections, the BJP and Sena had contested without a pre-poll alliance. The Congress and the NCP had also walked out of their 15-year-old alliance and contested separately. The BJP had emerged as the single-largest party, winning 122 seats, followed by the Sena 63, Congress 42 and NCP 41. The BJP and Sena had inked a post-poll pact to end their 15-year hiatus from power.
The BJP, in 2014, had also succeeded in forming its first-ever government in the state of Haryana. The party had won 47 out of the 90 constituencies, whereas, the incumbent Congress was reduced to 15 seats. The Indian National Lok  Dal (INLD) was also restricted to 19 assembly segments.