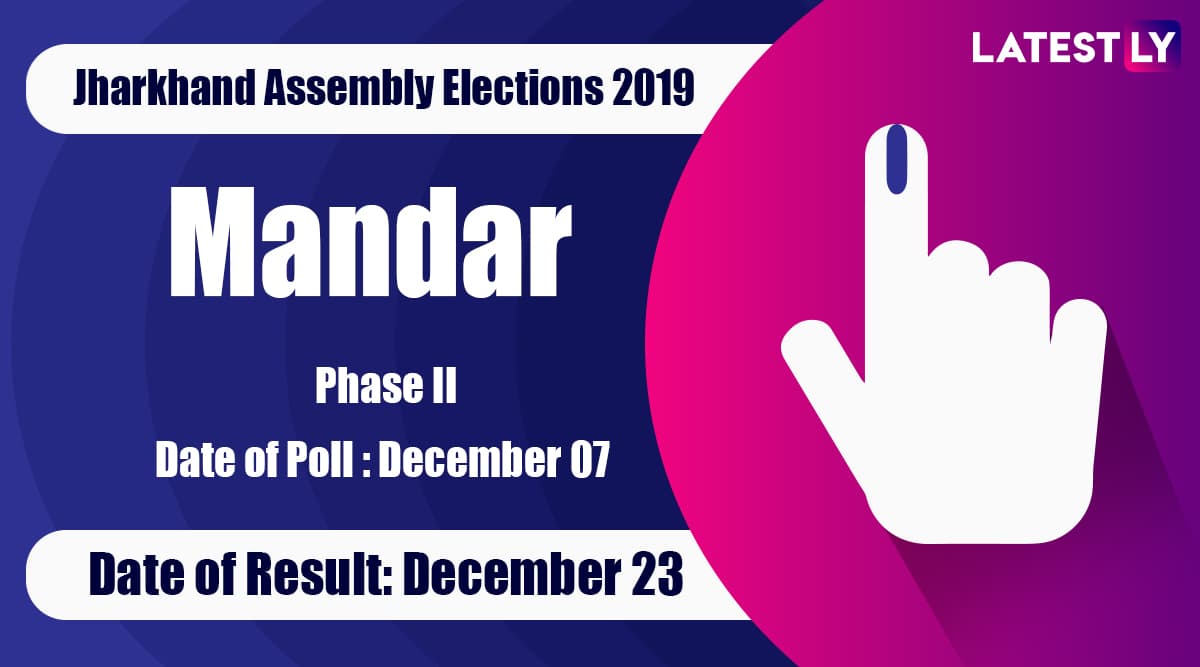 Ranchi, December 7: Mandar, the assembly seat located in Ranchi district of Jharkhand, will vote on December 7 in Jharkhand Assembly Elections 2019. The seat goes to polls in the second phase of elections, scheduled on December 7 and is an (ST) reserved seat. The Congress, JMM and Lalu Prasad Yadav's RJD stitched up a pre-poll alliance ahead of the assembly elections in Jharkhand. Phase-Wise List of Seats Going to Polls in Jharkhand.
Mandar is among the 20 seats which will be contested in round two of the elections. The other constituencies are: Baharagora, Ghatsila, Potka, Jugsalai, Jamshedpur East, Jamshedpur West, Kharsawan, Chaibasa, Majhgaon, Jaganathpur, Manoharpur, Chakradharpur, Tamar, Mandar, Torpa, Khunti, Sisai, Simdega and Kolebira.
In 2014, the Mandar seat was won by Gangotri Kujur of the Bharatiya Janata Party (BJP). However, this time the BJP has announced Deo Kumar Dhanas its candidate. The Congress-JMM-RJD candidate from the seat is Congress's Sunny Toppo.
The five-phase Jharkhand elections are scheduled to be contested between November 30 to December 20. Results of the polls will be declared by the Election Commission on December 23.
The poll outcome are also likely to used as litmus test by analysts to gauge the people's sentiment towards the ongoing economic slowdown. Jharkhand is among the states which have faced the worst brunt of the economic crisis, with unemployment and job losses being projected as top poll issues.
| MLA Candidates | Party | Votes |
| --- | --- | --- |
| BANDHU TIRKEY (Current MLA) | JVM | 92491 |
| SUNNY TOPPO | INC | 8840 |
| DEO KUMAR DHAN | BJP | 69364 |
| GLADWIN PAUL MINZ | IND | 2142 |
| PHILMON TOPPO | TMC | 1794 |
| MUNNA LOHARA | BSP | 1458 |
| ETWA LOHRA | SHS | 1312 |
| SUSHIL KUJUR | IND | 1060 |
| HEMLATA ORAON | AJSU Party | NA |
| GEETA ORAIN | Rashtriya Mahila Party | NA |
| SHISHIR LAKRA | All India Majlis-E-Ittehadul Muslimeen | NA |
| SANJAY MAHLI | Peoples Party of India (Democratic) | NA |
| SUNIL ORAON | Lok Jan Vikas Morcha | NA |