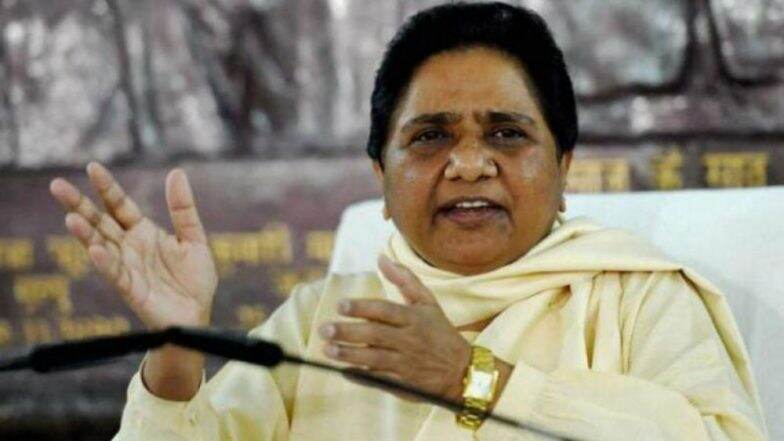 New Delhi, November 24: Bahujan Samaj Party (BSP) chief Mayawati at a press conference on Saturday criticised the BJP government and accused Prime Minister Narendra Modi of not fulfilling the promises made to the people of India. Mayawati said that it is going to be five years of the BJP government and Prime Minister Narendra Modi at Centre, but they still haven't fulfilled the promises made in 2014. "They feel that they won't be back in power," remarked Mayawati. Ram Mandir Row: Ayodhya Tense as VHP, Shiv Sena Mobilise Cadre For Massive Show of Strength on Sunday.
Mayawati, speaking about the Bhim Army and Bahujan Youth for Mission 2019 said that these organisations "are playing in the hands of Opposition from behind curtain." The BSP supremo called the Bhim Army an anti-BSP organisation and said that these outfits were misleading the dalits claiming that they will make Mayawati the next Prime Minister of India. Shiv Sena Chief Uddhav Thackeray to Visit Ayodhya with Family Today to Raise Ram Mandir Issue.
Talking on the Ram Mandir issue, Mayawati claimed that it is a ploy by the parties to "divert attention from their failures." She said that had their (BJP, Shiv Sena) intentions been good, they need not have waited for five years. Mayawati called Shiv Sena and Vishwa Hindu Parishad "as part of the conspiracy" accusing them of helping the BJP in polarising the masses before crucial elections.