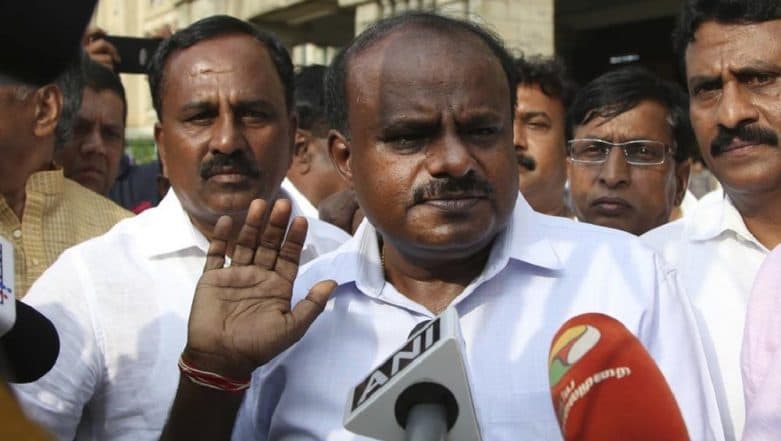 Bengaluru, April 20: Karnataka Chief Minister HD Kumaraswamy on Saturday launched a scathing attack on Prime Minister Narendra Modi and said he is misleading the country on Balakot airstrike during his electoral speeches while campaigning for Lok Sabha Election 2019. In an exclusive interview to ANI,  Kumaraswamy said the Prime Minister speaks about the airstrike in electoral speeches just to influence people and get votes.
In a series of tweets, Kumaraswamy said, "He (PM Modi) is misleading the people that he went to Pakistan border and he only dropped the bomb. He can speak but misusing his office is wrong", he said. The Karnataka CM further wen to say that several PMs ruled India, several times India-Pakistan war took place but nobody took advantage about that issue for personal benefit like PM Modi.
Kumaraswamy, on his statement that 'Modi puts makeup and wax', said, , "Why I said so was because all BJP people are saying that please see the face of Narendra Modi, vote for us." Karnataka CM HD Kumaraswamy Says Some Want to 'Finish' Me Off Politically. 
Here's the tweet:
Karnataka CM HD Kumaraswamy on PM Modi speaking on Balakot airstrike in electoral speeches: Balakot airstrike...he is misleading the people that he went to Pakistan border and he only dropped the bomb. https://t.co/R1WA0NwUtY

— ANI (@ANI) April 20, 2019
Talking about the relative calm situation across the nation when his father was the PM, he said HD Deve Gowda's ten-month long tenure as the Prime Minister of India was much better than Prime Minister Narendra Modi's so far. He said as far as the country's internal security is concerned, the country was peaceful during his father's tenure as there was not even a single terror attack. Karnataka CM HD Kumaraswamy Reacts on 'I Will Resign' Comment, Says 'Was Compelled'.
"When my father (HD Deve Gowda) was PM for 10 months in 1995 did any terrorist activity take place in this country? Did any terrorist activity go on at the India-Pakistan border? Entire country was in peace at the time when my father was the PM", he said.
Lauding Deve Gowda's contribution to India, the Karnataka CM said his father has always been a good administrator and is very well experienced. "He has experience in his political career. He's better than everybody, according to me. But he's not interested now. He already projected name of Rahul Gandhi (for PM). He's going to advise Rahul ji for good administration", he said.