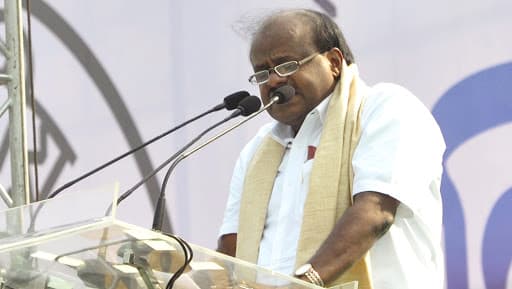 Bengaluru, January 31: Days after Karnataka Chief Minister HD Kumaraswamy threatened that he would resign from the top post, he clarified the reason behind his previous comment on 'I will resign', stating he was compelled to say do.
Addressing the media in Bengaluru, he said, as ANI reports, "I'm telling you all and people of the state to have belief in me. Yes, I said yesterday that I'll resign due to certain developments. Few people are talking against me which I why I had said so." Karnataka CM HD Kumaraswamy Gives Ultimatum After More Cracks Appear in Congress-JDS Alliance, Says 'Ready to Resign'.
Earlier on Monday, while expressing his developments in the state, the Karnataka CM had said, "They (Congress) have to watch all those issues that are left to them. ….. The reaction has to be taken by Congress leaders. I am not the concerned person for those things."
Adding on, the CM threatened to step down if this continues for long. He said, "If they want to continue, I am ready to step down. Congress leaders..they must think about all these things to control them...yes they are crossing the line."
The reactions were made after Kumaraswamy after Deputy CM had said, "Siddaramaiah has been best CM. He is our CLP leader. For the MLA, he (Siddaramaiah) is the CM. He has expressed his opinion. What is wrong in that? We are all happy with him (Karnataka CM HD Kumaraswamy)."
Reacting on the speculations of fringe between the JDS and Congress, former CM Siddaramaiah slammed the media and said, "You (media) are the people who create trouble. You ask one person, then second person and then third person. There is no trouble, I will speak to HD Kumaraswamy."
Soon after the reports surfaced that the coalition government in Karnataka might break, Congress president Rahul Gandhi intervened and sought the state president to solve the issue.