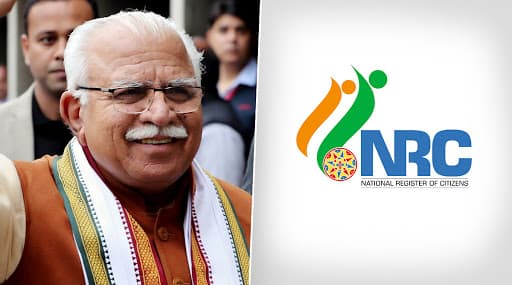 Chandigarh, September 15: Days after Maharashtra Home Ministry reportedly identified land in Navi Mumbai's Nerul area for the state's first detention centre for illegal immigrants, reports are arriving that Haryana might introduce the National Register of Citizens (NRC) in the state. Chief Minister Manohar Lal Khattar hinted on Sunday that his government might opt for NRC in the state. After Assam NRC, Maharashtra Govt Plans Detention Centre for Illegal Immigrants in Navi Mumbai's Nerul.
Contesting for the second straight term in the upcoming Assembly elections, Khattar is mulling plans to implement NRC in that state. Though the timing and date have not been finalised as of yet, the CM mentioned that his state government is determined to implement the NRC in the state. Speaking to reporters in Panchkula on Sunday he said, "We will implement National Register of Citizens (NRC) in Haryana as well."
Khattar met several imminent personalities on Sunday, including state's former Human Rights Commission's chairman Retd. Justice H S Bhalla and ex-Navy chief Admiral Sunil Lamba to discuss the issue.
Khattar had said, as reported by Indian Express, "Justice Bhalla had headed the Haryana Human Rights Commission besides holding various other positions. These days, he is working on NRC. I also said that we shall implement NRC in Haryana and sought his cooperation on how to implement it. He (Justice Bhalla) has also suggested that Haryana should also have a Law Commission. We shall examine that too and if people get benefitted with this, we shall also constitute one in the state."
Elaborating the plans, Justice Bhalla said. "Yes, I suggested the Chief Minister two things – NRC and State Law Commission in Haryana. NRC is only in Assam, currently. So, he (CM) was of this view that in Haryana, there should also be NRC. Residents should be given a card that they are the genuine residents of the state. It was a passing reference so far." NRC Final List 2019: What Next For Assam Residents Whose Names Not Included in National Register of Citizens.
Earlier, the final National Register of Citizens (NRC) in Assam declared 19 lakh people as foreigners. Following this, state home ministry of Maharashtra met City and Industrial Development Corporation (CIDCO), the planning authority of Navi Mumbai, seeking a 3-acre plot for the detention centre.