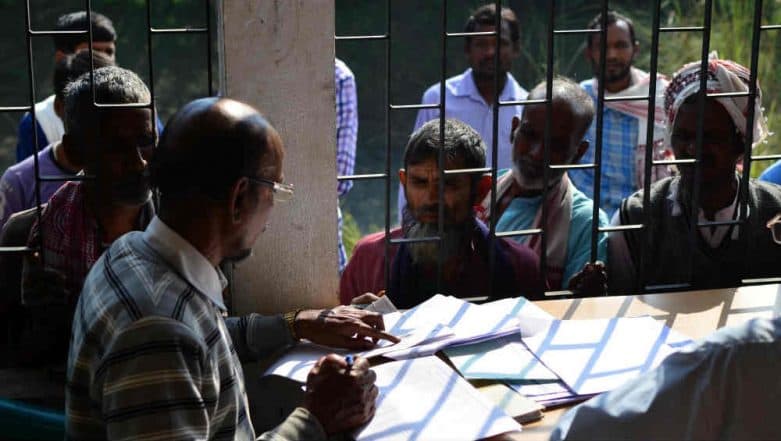 Guwahati, August 31: The final list of National Register of Citizens or NRC of Assam was released on Saturday with over 19 lakh people left out. The final list of NRC, which is available online at nrcassam.nic.in and thefinalnrc.com, has names of 3,11,21,004 people out of 3,30,27, 661 applicants. The central government has clarified that those excluded from the final NRC list won't be declared foreigner. The NRC is prepared to weed out illegal residents from Assam. NRC Final List 2019: How And Where to Check Names in National Register of Citizens For Assam.
Those excluded from the final list of NRC can appeal to the Foreigners Tribunal. The central government has raised the time-limit for filing appeals in foreigners tribunals to 120 days from the existing 60 days. As many as 1,000 foreign tribunals will be set up in phases to hear appeals against exclusion from NRC. At least 100 such tribunals are already open in Assam and 200 more will be set up in the first week of September.
If a person loses his appeal against non-inclusion in the NRC in the tribunal, he or she can approach the high court and then the Supreme Court. The government has assured that no one will be put in detention centres until all legal options are exhausted. "As long as the appellant's plea remains sub-judice with the Foreigners' Tribunal, he or she cannot be treated as a foreigner," Assam Chief Minister Sarbananda Sonowal has said.
Their Constitutional rights will be protected until the foreigners' tribunal declares them as foreigners. Once the foreigners' tribunal declares them foreigners, they might be arrested and sent to detention camps. Publication of Final NRC Will Be Peaceful With Amit Shah, People's Support: Assam CM.
"Under the provisions of Foreigners Act, 1946 and Foreigners Tribunal Order, 1964, only Foreigners Tribunals are empowered to declare a person as a foreigner. Thus, non-inclusion of a person's name in NRC does not by itself amount to him/her being declared as a foreigner," a notice by Kumar Sanjay Krishna, Additional Chief Secretary to Assam government's Home and Political Department, has mentioned.
The first part of the draft NRC, called Part Draft NRC, was published in December, 2017 and included the names of 1.9 crore people out of the 3.29 crore applicants, leaving 1.30 crore out. The final draft of the NRC contained 2.9 crore names, while 40.07 lakh were excluded.