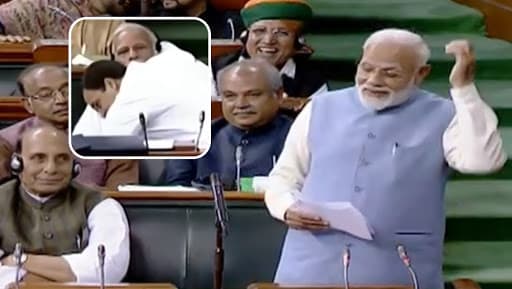 New Delhi, February 13: Prime Minister Narendra Modi's oratory skills are known worldwide, and the manner in which he attacks the opposition is undisputed. Setting an example of taking swipe at opposition on the last day of 16th Lok Sabha session, PM Modi – during his concluding address in the Parliament – mocked Congress president Rahul Gandhi, thanking the latter for teaching him the difference between 'Gale Lagna' and 'Gale Padna' (an embrace and someone throwing themselves at you).
Adding on, Modi also took a swipe at the Congress president – without taking his name – by mentioning the 'winking' incident during the Monsoon Session of the Parliament in 2019, in which Gandhi was seen winking after hugging the Premier. In his speech, he thanked Gandhi for letting him aware of the process of how the Parliament functions, especially when someone mischief with the eyes. Lok Sabha Elections 2019: Mulayam Singh Yadav Praises PM Narendra Modi, Says 'I Wish He Becomes PM Again'
The BJP stalwart said, "Mein pehli baar yahan aya, bahut si cheezein jaanne ko mili. Pehli baar mujhe pata chala ki gale milne aur gale padne mein kya antar hai. Pehli baar dekh raha hun ki sadan mein aankhon se gustakhiyaan hoti hain. (I came here for the first time and learnt many things. For the first time, I realized the difference between gale lagna and gale panda. Also, I saw for the first time that there are aankhon ki gustakhiyan (mischief of the eyes) in the house).
Today our message to the BJP is simple: Hug, don't hate ❤#HugDay pic.twitter.com/KaVSUPMMET

— Congress (@INCIndia) February 12, 2019
Taking a swipe at the Opposition for disturbing the Parliamentary Session, he said, "Hum sunte the ki bhookamp aayega, par koi bhookamp nahi aya. Kabhi hawai jahaaz uday gaye, lekin loktantra ki maryada itni unchi hai ki koi hawai jahaz uss unchchai tak nahi ja paya. (We often heard that an earthquake would take place, but it never happened. Sometimes paper planes were flown, but it couldn't cross the height of our democracy."
In another round of the event, Modi thanked Samajwadi Party patron Mulayam Singh Yadav for wishing him to return to power again in the Lok Sabha elections. Modi said, "This House passed GST Bill and made Aadhaar a stronger instrument. Mulayam Singh Yadav has blessed us to carry forward the development agenda."
Earlier in the day, the SP stalwart lent his support to Narendra Modi for the post of Prime Minister. He said, "PM ko badhaai dena chahta hun ki PM ne sabko saath lekar chalne ka pura prayas kiya. Main chahta hun, meri kamna hai ki saare sadsya phir se jeet kar aayen aur aap (PM) dobara pradhan mantri banein. (I want to congratulate PM who tried to work with everyone. I wish all the members are chosen one more and you (Narendra Modi) become PM).
However, the comment of Yadav was not appreciated by the opposition parties. Congress president Rahul Gandhi, while commenting on Yadav's statement said, "I disagree with him. But Mulayam Singh Yadav Ji has a role in politics, and I respect his opinion." Echoing similar opinion, NCP leader Supriya Sule said, "I have heard that respected Mulayam Singh Ji had said the same thing for Manmohan Singh Ji in 2014."
Now, with the country eagerly waiting for the Elections Commission to announce the dates for the upcoming Lok Sabha elections, the above exchange of words might bitter the relations of senior leaders of the opposition parties. It would be interesting to see whether Yadav's comment would make any difference or not.