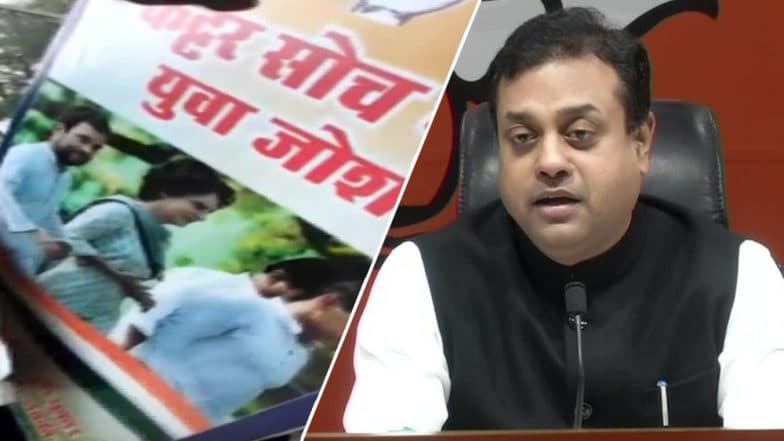 New Delhi, February 6: War of words began between the Bharatiya Janata Party (BJP) and Congress after posters featuring Robert Vadra along with Priyanka Gandhi Vadra and Rahul Gandhi outside Congress headquarters in Delhi were removed. On Tuesday, posters featuring the trio were put up outside the Congress headquarters at Delhi's Akbar Road. Taking a dig at the Bharatiya Janata Party (BJP), Congress leader Jagdish Sharma accused the party of playing dirty politics. "Modi govt is doing dirty politics, last night the posters were put up here now being removed", Sharma was quoted by ANI.
Furthermore, Sanjay Singh, Congress said, it is unfortunate for Narendra Modi that though having a wife, he cannot put up a poster with her. "Ye durbhagya hai Modi ji ka ki unki patni hai aur unke saath vo poster nahi lagate. Robert Vadra Priyanka ke pati hain, bhagwan kare unka sambandh rahe.Unka naam jo tamaam cheezo mein ghaseeta ja raha hai aaj tak BJP ke paas ek baat bhi pramaan ki nahi hui", Singh said.
Here are the tweets:
Delhi: Posters of Robert Vadra along with Priyanka Gandhi Vadra&Rahul Gandhi that were put up yesterday outside AICC headquarters, have been removed today. Jagdish Sharma,Congress says,"Modi govt is doing dirty politics, last night the posters were put up here now being removed." pic.twitter.com/hTAIVdSM3C

— ANI (@ANI) February 6, 2019
Sanjay Singh, Congress: Aaj Robert Vadra ka ho raha hai ED ke saamne, kal Modi ED ke saamne khade honge. https://t.co/0EdcAnjeHI

— ANI (@ANI) February 6, 2019
Meanwhile, Senior BJP leader and spokesperson Sambit Patra launches a scathing attack on the Congress and said, the posters outside the Congress office in Delhi has two criminals- Criminal number 1 is Rahul Gandhi and criminal number 2 is Robert Vadra. Targetting Vadra at a press meet, Patra said, 'Gone are the days when Robert Vadra possessed one property in London. Today he has 8 properties in London". Lok Sabha Elections 2019: Priyanka Gandhi Holds Meeting at Rahul Gandhi's Residence for 'Mission UP'.
Sambit Patra,BJP:Posters of 2 criminals have been put in front of Congress office.Both of them are out on bail; Criminal no.1 Rahul Gandhi in connection with National Herald case&criminal no.2 Robert Vadra who has to appear before ED today in connection with money laundering case pic.twitter.com/FiyJxQaDWw

— ANI (@ANI) February 6, 2019
According to reports, the poster had a slogan saying, "Kattar Soch Nahi, Yuva Soch" (Not extremist ideology but young thinking).  Another slogan on the posters states, "Jan-Jan Ki Hai, Yahi Pukaar, Rahul ji-Priyanka ji Ab Ki Baar" (People of the nation want Rahul and Priyanka this time). Priyanka Gandhi Gets Her Own Office At Congress Headquarters Ahead of Lok Sabha Elections 2019. 
Priyanka has been newly inducted Congress general secretary for Uttar Pradesh Priyanka Gandhi. She has been made in-charge of 43 out of 80 Lok Sabha seats in the state. Vadra, the son-in-law of Congress leader Sonia Gandhi, is scheduled to appear before the Enforcement Directorate (ED) on Wednesday in connection with a money laundering case relating to alleged possession of illegal foreign assets. Reports inform that the case relates to allegations of money laundering in the purchase of a London-based property which is located at 12, Bryanston Square and is worth 1.9 million pounds, which is allegedly owned by Vadra.
In the last week, a Delhi court had granted interim bail to Vadra till February 16 and asked him to join probe by appearing in person on February 6 in this case. He was directed by a Delhi court to cooperate with the investigation being carried out by the central probe agency after he knocked on its door seeking anticipatory bail in this case.