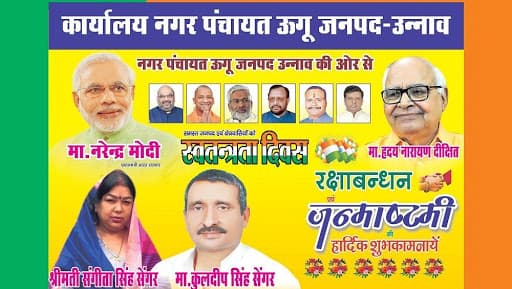 New Delhi, August 17: Congress general secretary Priyanka Gandhi on Saturday slammed the Bharatiya Janata Party for publishing a full-page advertisement in the local edition of a vernacular daily in Uttar Pradesh's Unnao on Independence Day, featuring Prime Minister Narendra Modi and Kuldeep Sengar, the rape-accused former BJP leader together.
Commenting on the full-page advertisement, the Congress leader took to Twitter and wrote 'Enough is enough'. Along with she asked whether the top BJP leaders will comment as Sengar's photo was displayed along with theirs or not. Unnao BJP Leader Embarrasses Party, Puts Rape Accused MLA Kuldeep Sengar's Photo in Party Advertisement
She wrote in Hindi, "CBI submitted the report. Supreme Court has also reprimanded but BJP people still have rape accused Kuldeep Singh Sengar in their hearts. His photo is there with big leaders of BJP. Will they comment?" Priyanka Gandhi tweeted, adding #EnoughIsEnough.
Here's the tweet:
CBI ने रिपोर्ट दे दी। सुप्रीम कोर्ट ने फटकार लगा दी, लेकिन भाजपा वालों के दिल में अभी भी बलात्कार के आरोपी कुलदीप सिंह सेंगर का वास है।

भाजपा के बड़े नेताओं का फोटो भी उनके साथ है, क्या उनसे कोई टिप्पणी आएगी?#EnoughIsEnough https://t.co/puTVaArIHb

— Priyanka Gandhi Vadra (@priyankagandhi) August 17, 2019
It is to be known that in the poster, along with Sengar, Union Home Minister Amit Shah, Uttar Pradesh Chief Minister Yogi Adityanath were also seen. Meanwhile, Ungu Nagar Panchayat chairman defended the poster stating that Sengar is their MLA, but BJP spokesperson Shalabhmani Tripathi denied party links to the poster. Priyanka Gandhi Booked in Bihar for Her Tweet on Pehlu Khan Lynching Case
Here's the video:
Earlier this month, Sengar was expelled by the BJP amid criticism the party had only acted after concerted outrage against earlier inaction. Delhi court last week framed charges of rape against four-time MLA Kuldeep Sengar.
(With Inputs From ANI and PTI)