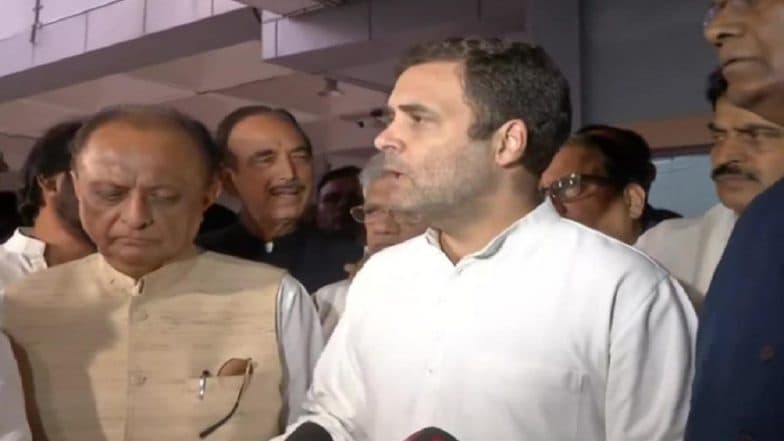 New Delhi, August 24: Former Congress president Rahul Gandhi, whose delegation of Opposition leaders was turned away from the Srinagar airport by Jammu & Kashmir administration, lashed out at Governor Satya Pal Malik. Gandhi claimed that the Governor's claim of "normalcy" is false, adding that even the media personnel who accompanied him were beaten up.
Addressing the press in Delhi after returning from Srinagar airport, Gandhi said he wanted to visit Jammu & Kashmir after officially obtaining permission. "I was invited by the Governor when I questioned Centre's claim of calm and normalcy in J&K," he said. Rahul Gandhi-Led Delegation Wanted to Aggravate Situation in Jammu & Kashmir, Says Governor Satya Pal Malik
"I accepted the invitation. We wanted to get a sense of what people are going through, but we weren't allowed beyond the airport," Gandhi added.
"Press people with us were mishandled and beaten. It's clear that situation in Jammu & Kashmir isn't normal," the senior Congress leader further added.
Update by ANI:
Delegation of opposition leaders that went to SRINAGAR & was sent back from Srinagar airport in Budgam, writes a letter to Budgam District Magistrate: We record our strong objection to the basis of our detention, which prima facie is undemocratic&unconstitutional.#JammuAndKashmir pic.twitter.com/toHa4HdYG4

— ANI (@ANI) August 24, 2019
Besides Rahul Gandhi, the delegation comprised of CPI leader D. Raja, CPI(M) general secretary Sitaram Yechury, Congress leaders Ghulam Nabi Azad, Anand Sharma and K.C. Venugopal, LJD chief Sharad Yadav, TMC leader Dinesh Trivedi, DMK's Tiruchi Siva,  NCP's Majeed Memon, RJD's Manoj Jha and JDS' D Kupendra Reddy.
Shortly before Rahul Gandhi addressed the press in Delhi, Governor Malik issued a statement in Srinagar claiming that the delegation of Opposition leaders was barred from entering Jammu & Kashmir as their intent was to allegedly reap political dividends.
"I had invited him out of goodwill but he started doing politics, it was nothing but a political action by these people. Parties should keep in mind the national interest at these times," Malik said.