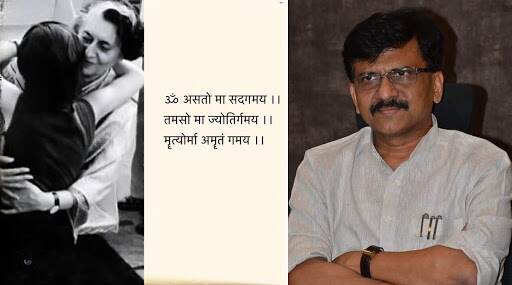 Mumbai, November 1: With the political tussle over Chief Minister post in Maharashtra between Bharatiya Janata Party and Shiv Sena leading to chaos, a Congress general secretary Priyanka Gandhi's tweet has shown a ray of hope. Surprising, the tweet was liked by Shiv Sena spokesperson Sanjay Raut and has now given a hope that the saffron party might consider making an alliance with Congress and Nationalist Congress Party for government formation in the state.
According to the Twitter handle of Raut, he liked the tweet shared by Priyanka Gandhi, who had shared an emotional pictorial message on "Asatoma sadgamaya Tamasoma jyotirgamaya Mrtyorma amrtam gamaya", along with her grandmother Indira Gandhi -- former Prime Minister of India. As per the details, the Sanskrit mantra appeals the lord to guide people to the path of truth, light and life from lies, darkness and death. Maharashtra Government Formation: Shiv Sena Hardens Stand; No One Can Make Permanent Claim on CM Post, Says Uddhav Thackeray.
Here is Priyanka Gandhi's tweet, liked by Sanjay Raut:
यह वह पहला श्लोक है जिसे हमारी दादी ने मेरे भाई और मुझे सिखाया। अक्सर हमें देख कर इसकी पहली पंक्ति बोलती थीं और हम इसे पूरा करते थे।

आज इसकी आख़िरी पंक्ति दिल में गूंज रही है।#IndiraGandhi pic.twitter.com/VboHOkYSxK

— Priyanka Gandhi Vadra (@priyankagandhi) October 31, 2019
This above tweet liked by Raut strengthens the hint that Shiv Sena might align with Congress and NCP, which is looking forward to forming the government in Maharashtra. Even Raut met Nationalist Congress Party (NCP) chief Sharad Pawar on Thursday, and this gave rise in speculations that everything is not correct between Shiv Sena and BJP.
Looking at the statistics after the Maharashtra Assembly Elections 2019, BJP won 105 seats, down from 122 that it had bagged in 2014, while ally Shiv Sena secured 56 seats. The NCP put up a magnificent show by winning 54 seats and ally Congress won 44 with a combined tally of 98 seats.