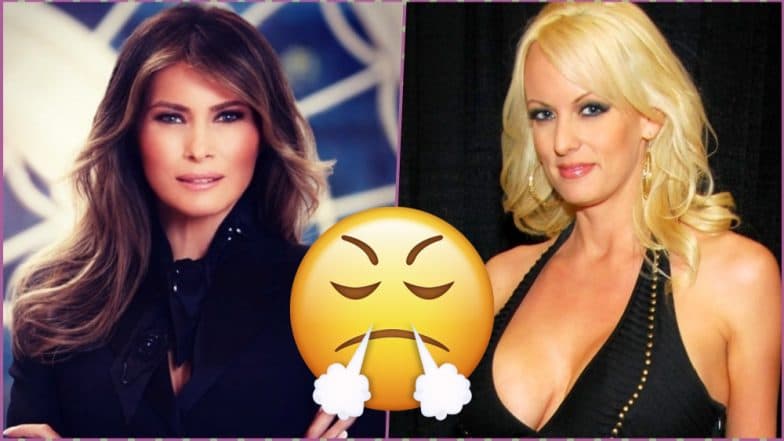 The news is out that Melania Trump is hopping mad at pornstar Stormy Daniels for her unsavoury description of her husband's privates. If you are too late for the ToadD**k gate, let's fill you in. In Stormy tell-all memoir Full Disclosure, the former pornstar revealed some hitherto unknown facts about her life. Everyone knows of her affair with Donald Trump, which she revealed happened in 2006. The memoir digs deeper into her sordid tryst with the US President and reveals details that you wish you hadn't read. She describes Trump's penis as being "unusual" and "smaller than average." She didn't stop there. Stormy went on to liken the President's member to Toad, a character from Mario Kart.
Not surprisingly, the first lady of USA hasn't taken Stormy's insult too lightly. A source revealed to Hollywood Life that Melania feels that the former pornstar's description of her husband's penis is "rude, disrespectful and just plain wrong." She is seething with anger and wishes that Stormy would keep quiet and go away.
Although she has publically maintained a dignified silence about the revelation, she's not exactly cool with it. The website reveals that ever since the scandal broke out, she's been struggling to keep a calm head as allegations pile up against her husband. The book has already taken a pound of flesh before its release. One can only guess how much worse it will get once the book is out. Stormy Daniels Book 'Full Disclosure' Uncovers Donald Trump: Here Are 5 Revelations About US President You Didn't Know.
Apart from the allegations of a sexual tryst, Stormy mentioned in her book that she wished to feature in his reality show The Apprentice in exchange for sexual favours. Although the President has denied the former pornstar's claims, the book promises to dish out more embarrassing details about their affair.