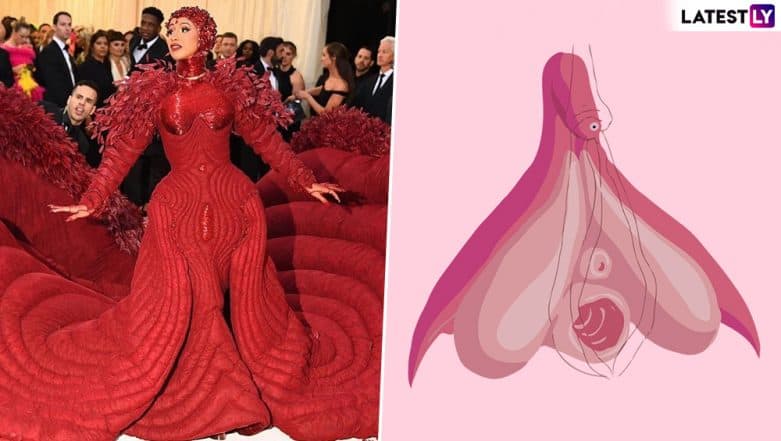 Cardi B and her sartorial choices have always been extremely dramatic. While we know Bardi gang loves to see her loud appearances, we've seen some of most over-the-top fashion outings from her; but with Met Gala 2019 we honestly didn't know what to expect. However, Cardi B didn't disappoint us. Cardi B outdid Cardi B, and graced the pink Met Ball carpet in a humongous, larger than life quilted and feathered gown by Thom Browne. The gown had a personality of its own and required an entourage, leaving Cardi B aside. Over 10 people were needed to carry the massive gown and she almost covered the whole staircase at the pink carpet. However, while she looked brilliant and all eyes were on her, we couldn't resist but think that her dress looked like a huge vagina! Believe it or not, it did! When you look at the dress for a little longer, you'll see that it completely looks like the anatomy of female genitalia and we are sorry if we ruined Cardi B's Met ball look for you. Also, while we are on that, doesn't it also look like a realistic image of menstruation? Just saying.
Cardi B gave us the shock of our lives was dressed from head to toe, without flashing a single inch of skin (except her face, obviously), especially after recently Cardi B recently went all nude while she took on to Instagram to answer the trolls in the most explicit manner. We can only imagine that this was probably another way of hitting at the trolls or what? Really our brains are so much caught up with the stark resemblance of her dress with a vagina that we can't even think clearly now. But if this was an answer to all the trolls who circulated a photoshopped image of her vagina, all we can say is WOW!  Cardi B Goes Almost Nude in an Explicit Video on Instagram for the Trolls Who Circulated Her Billboard Music Awards Red Carpet 'Wardrobe Malfunction' Pictures.
Take a look at Cardi B's Met Gala appearance
View this post on Instagram
We can't help but notice its resemblance with a vagina: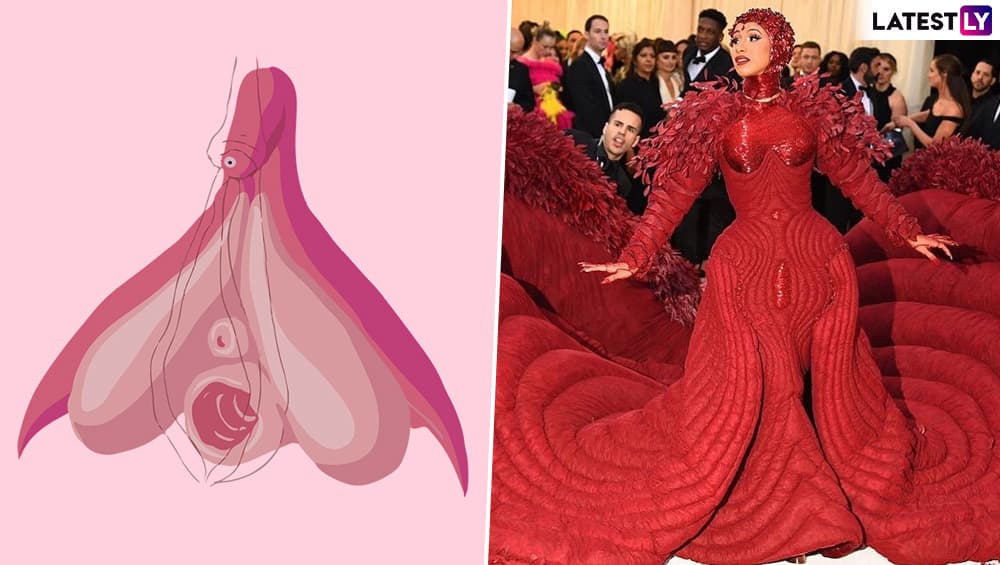 Many memers are also comparing the picture of Cardi B on the pink carpet of Met Gala 2019 with what menstruation looks like, yes PERIODS is what people are comparing Cardi B's whole look to.  So much red does give away that impression though, what say?
However, on some other note, here are some of the hilarious reactions that Cardi B's dress garnered online:
"Can I copy your homework?"

"Okay, just don't make it obvious"#MetGala #CardiB pic.twitter.com/foPTeYPQVq

— @shann_delier (@shanntroylara) May 7, 2019
Carrie flashback
#CardiB straight out stepped out of a @StephenKing movie. pic.twitter.com/lkP8kzWJJu

— Jessica Shepherd (@bluhuskygirl) May 7, 2019
TRUTH
If my period was a person...#MetGala2019 #cardib pic.twitter.com/dzYVerokKX

— hypertension forever. (@RaceMinder) May 7, 2019
Cannot
I interrupt whatever you're doing for a VERY IMPORTANT MESSAGE from #CardiB about her vagina and her FUPA! https://t.co/4o3dHcDUE0 pic.twitter.com/2lqeMW5TuT

— Perez (@ThePerezHilton) May 2, 2019
Dang it
My period arriving after 5 days of delay #MetGala #CardiB pic.twitter.com/1OwOuzZ5Hi

— Gynxx 💜🍑 (@GynxxM) May 7, 2019
Will not deny
She still served tho I love the look #CardiB #MetGala2019 pic.twitter.com/due5Bm0OX9

— Kool Bri🤠 (@briistlyy) May 7, 2019
Did her grandma design it?
Yo I knew her dress looked familiar that's my grandmas rug #MetGala2019 #CardiB pic.twitter.com/ifLIRbJzlU

— ozzie (@kidd_ozzie) May 7, 2019
Same feels
Can't unsee it now #CardiB #MetGala pic.twitter.com/EgHy1be2Su

— Nuno (@hereisnuno) May 7, 2019
I am not laughing, you're laughing
Cardi B showing up looking like a used tampon 😂 #MetGala #CardiB pic.twitter.com/Zoe4CvkYwJ

— ig: ijwms (@ijwtc) May 7, 2019
Recently, the I Like It hitmaker stripped off to just a tiny thong and pointed out at her genitalia during and went on a rant about how the trolls doctored her Las Vegas red carpet picture and circulated it online.