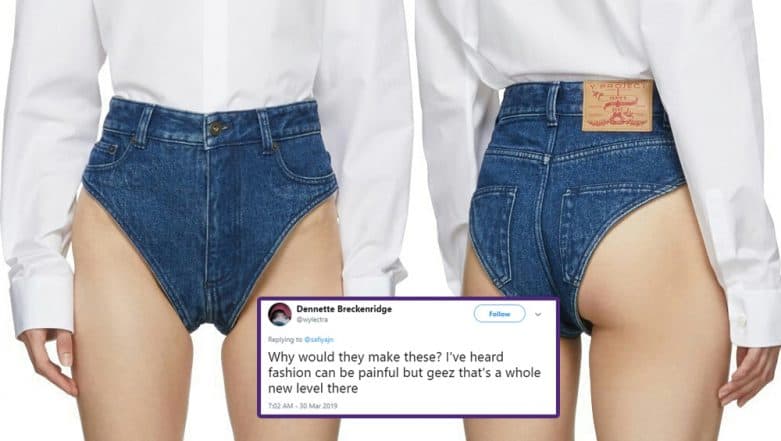 Fashion trends are always evolving and some don't go into a good phase at all! From time to time there come up new fashion trends that will make the user question why are they even made. The latest entrant in here is janties, or the denim panties. Introduced by a high-end fashion label Y Project, it is denim underwear or the 'brief-style' shorts. These denim panties which are also termed as janties are high-waist, with a zip in front and leave very little to the imagination. And needless to say, they cost a bomb! Priced at $315 ie Rs 21,800, these are being sold online. People too aren't impressed by this new piece of denim clothing. Thong Jeans are a Hit However You May Laugh at It! There's Waitlist for Denim Brand's Extreme Cut Out Jeans Priced at Rs 11,424!
Denim brands have time and again experimented and introduced new kinds of jeans. Some of them have worked for the audiences, but this one clearly hasn't. The reverse stitched jeans introduced a few months ago by another fashion brand was slammed by people on the internet. Similarly, these tiny pair of shorts haven't left people impressed. See-Through, Butt-Flashing Combat Trousers Sold by British Fashion Biggie Is Being Mercilessly Trolled (View Pics)
Check how people on Twitter reacted to the introduction of Janties: 
As if jeans weren't uncomfortable enough
But jeans are already uncomfortable..why on God's good earth would I go and buy underwear made out of denim🤦🏽‍♀️

— GT3♏ (@Whipped_Crim_54) March 27, 2019
HOW do i feel about $300 denim panties, you ask? well i'll tell you how i feel. utterly and thoroughly chafed pic.twitter.com/YYQ9v5dZ6b

— Safiya Nygaard (@safiyajn) March 29, 2019
Disturbing
That looks disturbing

— Kaitlyn Jones (@Kaitlyn04964152) March 29, 2019
Why Why?
NO I would never wear denim underwear AKA "janties." And asking people if THEY WOULD wear them seems foolish, especially when they cost over $300.. but YA NEVER KNOW. Would you rock janties? My follow up question: WHY? 🤨🥴#GetUpDC @WUSA9 https://t.co/C7nLOOr7Sf pic.twitter.com/UjbsQjepV6

— Annie Yu (@AnnieYuTV) April 1, 2019
Why would they make these? I've heard fashion can be painful but geez that's a whole new level there

— Dennette Breckenridge (@wylectra) March 30, 2019
Nope Nope!
😭NOPE!!! I don't want Y/Project Denim Panties pic.twitter.com/LDyUi0E4Wm

— SinnamonS ♥ (@SinnamonS) March 28, 2019
Where would you wear them?
To what occasion can you actually wear denim panties??? pic.twitter.com/Qb0u0Bn7ai

— lil power move (@DopeLifeOfTot) March 26, 2019
What about Hygiene??
Okay, besides the look of it, I'm just really concerned about hygiene. pic.twitter.com/jdFuYGFNBL

— 👑 Lipiphera 🍒♌♎♍🐾 (@untotheashes) March 29, 2019
Most women wondered why the product was even made. Some even made jokes on it. There were few who thought it would look nice, but the huge price tag that comes with it was also a concern. Clearly, the world of fashion or rather denim fashion needs better innovation? What do you think? Would you give these janties a yayy or nayy?