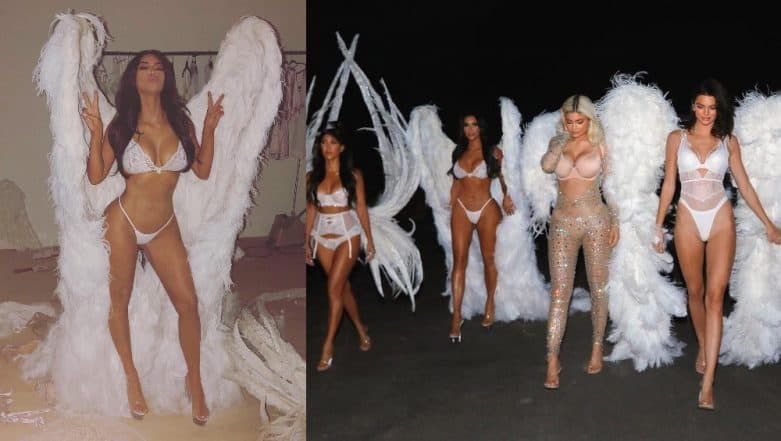 Kim Kardashian took Monday motivation to another level by sharing a racy picture on Instagram. Despite expressing about husband Kanye West's apprehensions towards her uploading risqué pictures, looks like they must have reached an understanding of some sort. Because her latest picture is quite scintillating.
The Keeping Up With The Kardashians star shared a throwback picture from last Halloween on her Instagram. Wearing racy white lingerie with oversized Victoria's Secret Angel wings, the diva sure looks like a million bucks! She captioned the image as, "There won't be an episode of KUWTK on tonight but next weeks episode shows our Halloween shoot as @victoriassecret angels. Any suggestions of what me and my sisters can be this year?" This actually took us back to the time when Kim K had shared a picture with all the Kardashian-Jenner sisters donning the VS Angel Wings. The image was shared back in November 2018. You can check it out below.
Kim Kardashian posing with VS Angel Wings
The Kardashian-Jenner clan
Clearly, Kim K is all about encouraging fans to look forward to Monday motivation. The reality TV star made her Vogue magazine cover debut sporting a wet grunge look. In her interview with the magazine, she revealed quite a lot about herself, Kanye and pursuing law. The couple is expecting their fourth child via surrogacy. They also revealed that the baby is due next month. If all works well, perhaps Kim and Kanye's fourth baby will be delivered at around the same time the Duke and Duchess of Sussex, Prince Harry and Meghan Markle's first baby is delivered. That would be pretty cool!