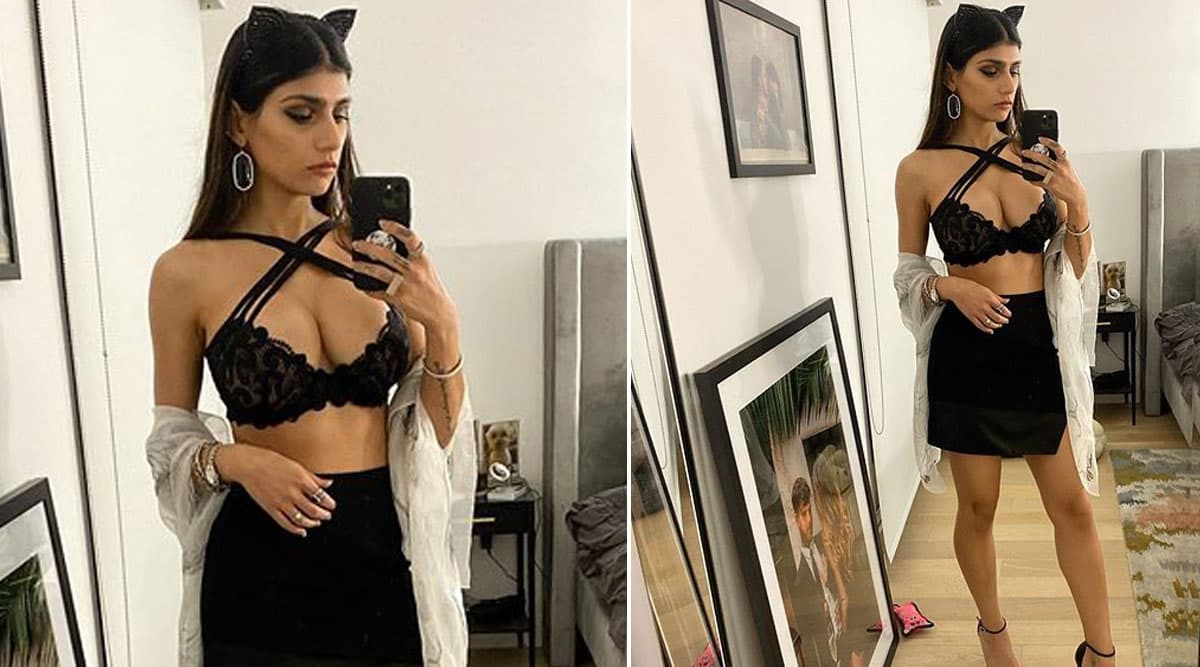 Mia khalifa may be chilling at home with hair unwashed and all she has to do is post a pic of her's and *BAM* you'll hear an ambulance wow-wowing in the background, picking up breathless people. The hottest Pornhub queen, Mia Khalifa owns Instagram. She just posted a picture of herself wearing a cat ear accessory and we can't even! Mia Khalifa in black, is all you want to see today to make your day. The latest picture, the former XXX superstar has posted on Instagram, is coupled with a hilarious caption. You can totally trust Mia Khalifa to add humour and food references to basically anything! Mia Khalifa's caption read: My hair is currently unwashed, but here's banked selfie apropos of nothing". Mia Khalifa in XXX-Tra Hot Red Thong, Kissing Robert Sandberg in Bathtub Flooded With Rose Petals Is Everything You Want to See on the First Day of New Year 2020. 
Mia Khalifa can be seen in a black criss-cross bralette and shot black skirt with a small slit. She gave her ensemble a fun twist with the cat ears hairband and pulling down the kaftan style shrug to her elbows. Mia Khalifa can be seen giving a sexy expression for the mirror selfie. She completed her look with sleek strappy heels in black as well. For accessories other than the cat ears, Khalifa is wearing a bunch of gold rings, a watch and a pair of earrings in black.
Pornhub's year-in-review just came by the end of 2019 and Mia Khalifa emerged as the queen that she is. While this year was owned by Lana Rhoades, the XXX star who became the most searched for pornstar on Pornhub, on the second position, was Mia Khalifa, the forever favourite, Pornhub legend. Riley Reid was the third most searched, but the number of video views surpassed the others with a whopping 585 million.