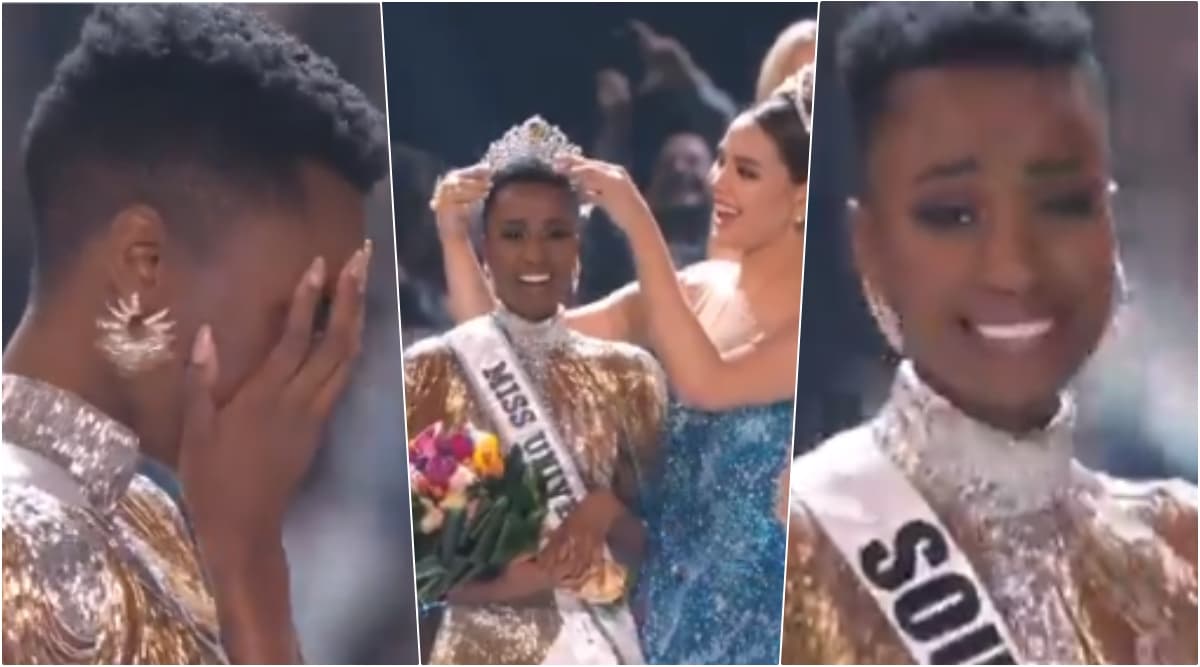 South Africa's beauty queen, Zozibini Tunzi is the Miss Universe 2019. People across the world are cheering loud, especially the country who got the prestigious crown back after Demi-Leigh Nel-Peters in 2017. Miss Universe 2018 Catriona Gray placed the 5 million dollars' worth new crown on Miss South Africa's head at the 68th beauty pageant. The much-awaited moment of Miss Universe 2019 crowning ceremony is now surfacing on social media with Zozibini Tunzi's big win. The 26-year-old looked stunned when she beat first runner-up Madison Anderson, Miss Puerto Rico and Sofia Aragon, Miss Mexico who was placed third. Here we bring you the video of Miss Universe 2019 winner Zozibini Tunzi's crowning moment which took place at Tyler Perry Studios in Atlanta, Georgia. Miss Universe 2019 Winner Is Zozibini Tunzi, Here Are Five Things to Know About Miss South Africa. 
Zozibini Tunzi walked away as the winner on December 8 after she wowed the judges with her talent and beauty during the ceremony. Her bio at the Miss Universe 2019 website describes Zozibini Tunzi a "passionate activist" who is engaged with the fight against gender-based violence. The 26-year-old is also the third woman from South Africa to win the prestigious title and the first black woman since Leila Lopes was crowned Miss Universe 2011.
Watch Video of the Miss Universe 2019 Crowning Moment:
The new #MissUniverse2019 is... SOUTH AFRICA!!!! 🇿🇦 pic.twitter.com/gRW8vcuT3A

— Miss Universe (@MissUniverse) December 9, 2019
Twitter Rejoices!
She had the best answers

— . (@julesmaye) December 9, 2019
Tears of Joy!
Hey Alexa play Brown Skin Girls by Beyoncé pic.twitter.com/yohuuqe8R5

— Delbin Nunez 🇩🇴 (@delbiyonce) December 9, 2019
Take A Bow to the Queen!
Congratulations from #Ecuador, intelligent and beautiful woman, very inspiring!! #SouthAfrica

— Olivia Alvarez (@foquita_playera) December 9, 2019
The 68th beauty pageant was a glorious event, and like every year, moments from the ongoing competition surfaced online. India's Vartika Singh could not secure the spot in the Miss Universe 2019 top-10 list. The top ten contestants who competed in the final rounds were Miss United States, Miss Colombia, Miss Puerto Rico, Miss Peru, Miss Iceland, Miss France, Miss Indonesia, Miss Thailand, Miss Mexico and Miss South Africa who finally took home the crown.