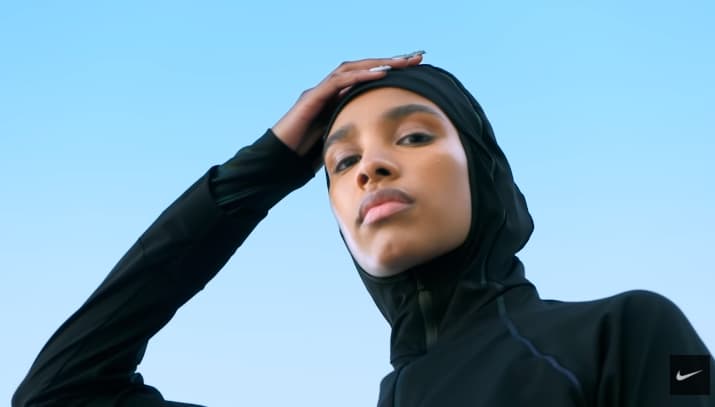 Nike has introduced a new swimwear line designed for women who wear hijab. The new Victory Swim Collection includes full-body swimsuit including a swimming hijab, tunic top and leggings. The company announced that the new fashion line will be available for sale online from February 1 at some retailers in California, New York City, London and Dubai. Vogue Does It Again! Magazine Features Hijab-wearing Model Halima Aden On Their British Cover.
Nike in a statement said, "The design of the Nike Victory Swim Collection serves a variety of needs from modesty preferences to sun protection and represents Nike's commitment to inclusive design, providing more women with game-changing innovation to enjoy the sport." The fabric is lightweight, breathable, fast-drying and comes with UPF4O+ sun protection. The full covering suit is available along with a separate hijab, tunic top and swim leggings. Decathlon Faces Threats Over Controversial Item 'Hijab De Running', Decides to Stop Selling Sports Hijab in France.
Check Out Nike Victory Swim Collection:
The swimwear comes after Nike released performance hijab for Muslim women athletes in 2017. It was a single-layer pull-on design made from lightweight polyester in dark and neutral colours with tiny holes to make the fabric breathable and opaque. From Athletes to Beauty Queens, 5 Muslim Women Who Rocked the Headscarf With Pride.
CNN quoted Emirati figure skater Zahra Lari as saying in a statement, "I was thrilled and a bit emotional to see Nike prototyping a Hijab. I've tried so many different hijabs for performance, and ... so few of them actually work for me. But once I put it on and took it for a spin on the ice, I was blown away by the fit and the lightweight." Nike said they introduced hijab after some Muslim athletes complained about having to wear a traditional headscarf during competition.