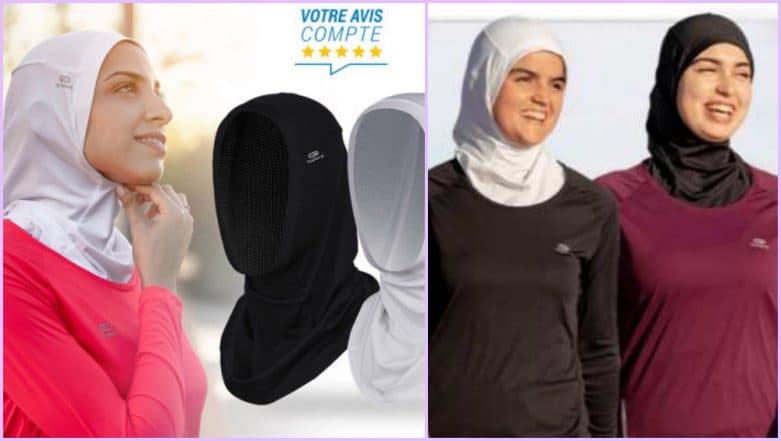 A biggest sports retailer in France, Decathlon has taken down all those sports hijab from their shelves after receiving significant backlash from politicians and public. The French sporting goods company just decided to launch its controversial product— 'hijab de running' online, the sports hijab which covers only the person's hair, worldwide, stating it wanted to make "sport accessible to all women in the world." In no time, a violent debate sparked on the internet and Decathlon's employees even received hundreds of threatening calls and emails complaining about the product. The company called for "calm and respect." Why Women Wear Hijab? 
The garment covering women's hair and not their faces, is already on sale in the company's Moroccan branches. It was due to be rolled out to stores globally. Decathlon, as quoted by CNN, said it was halting the launch, "in the interests of guaranteeing the security of our teammates." The sports retail company initially defended the garment, stating it was created, depending on the needs expressed by its female customers in Morocco. Aurore Bergé, a spokeswoman for France President Emmanuel Macron party, voiced her opposition to the hijab and said she would boycott brands that do not respect French values.  From Athletes to Beauty Queens, 5 Muslim Women Who Rocked the Headscarf With Pride.
Here's Her Tweet
Le sport émancipe. Il ne soumet pas. Mon choix de femme et de citoyenne sera de ne plus faire confiance à une marque qui rompt avec nos valeurs.

Ceux qui tolèrent les femmes dans l'espace public uniquement quand elles se cachent ne sont pas des amoureux de la liberté.#Decathlon

— Aurore Bergé (@auroreberge) February 26, 2019
As translated by media outlets, Bergé tweeted, "My choice as a woman and as a citizen will be to no longer trust a brand which breaks with our values. Those who only tolerate women in public spaces when they are hidden are not lovers of freedom." Stunning Pictures of Women That Prove The Veil Can Be Beautiful and Empowering. 
Decathlon responded to Bergé stating, "Our objective is simple: to offer them a product which is adapted to sport, without any judgment." As the public debate picked momentum, the sports retailer decided to suspend the sale of the item in France. On the other hand, as per wionews.com, French Justice Minister Nicole Belloubet said that the sports stores are free to sell the running hijab and noted that there are no legal objections. She said, "The debate on this issue became hysterical and I regret that."
Muslim head scarfs are legal in public spaces in France. However, it has been banned in state schools and some public buildings since 2004. Again, civil servants in the country cannot wear hair-covering veils during working hours. Any items of clothing seen as asserting a religious identity have often sparked controversy.