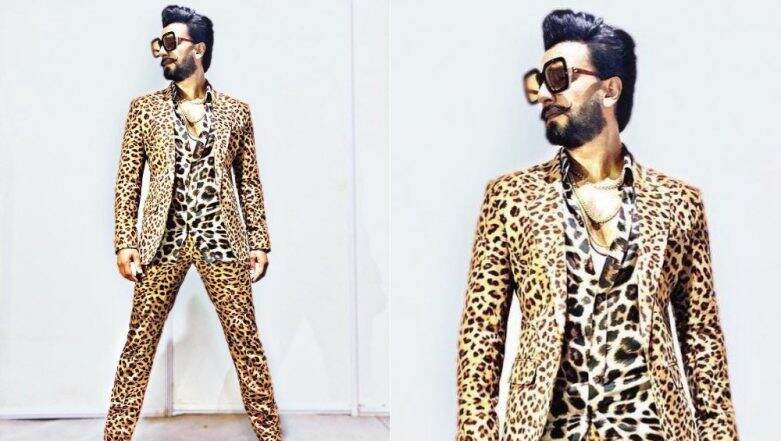 Ranveer Singh does it again but does it so well! The actor has a thing for loud and bling so it is not surprising to see him strut the award shows wearing the most outlandish ensembles. Last night as the Umang 2019 event kicked off as celebrities honoured the police force, Singh channelled his metaphorical Simmba avatar and put some life in it. The actor opted for an all cheetah-print ensemble designed by Varoin Marwah. He completed the look by adding a giant brown-hued sunnies, some chains around his neck and shiny golden shoes. Needless to say, the whole ensemble did stand out for all the right reasons.
Perhaps it's a problem I suffer from but I simply cannot criticise any look Singh presents at events or launches. The fact that he wears his personality on his sleeves and is unabashedly himself simply adds more panache to the looks he dons. The probably answers why he is able to pull off these otherwise risque looks with so much ease. Anyway, you folks can check out his insanely awesome look below.
At the Umang events, especially, Singh has only channelled his quirks. The yeat when he played Bajirao in Sanjay Leela Bhansali's Bajirao Mastani, he donned shades of grey with a befitting hat. He looked quiite like an English gentleman in the ensemble. The following year as he signed Bhansali's Padmaavat, he brought out the Khilji look by wearing a gorgeous beard, a completely black flowy ensemble and kohl eyes.
That night, he looked too damn hot for us to think of anything else. The year following that, he got rid of the Khilji look and kept things shiny bright again as he opted for a velveteen fabric suit. And now, this year, he has opted for an all cheetah-print look with the first two buttons of the shirt open. We're loving how his quirk-the-red-carpet feat is going so far.