Sonam Kapoor is one gutsy woman and anyone wuld think twice before messing with her! Guess Diet Sabya didn't have a clue about it and that's why faced Sonam's wrath this evening. Well, to begin with, it so happened that Diet Sabya shared a pic of Sonam in an Anamika Khanna outfit that she wore at Isha Ambani and Anant Piramal's grand wedding. She was wearing a fuchsia pink attire which had 'IS AK-OK' printed on it. Well, the same design was accused by this hit Insta page for plagiarising the idea of Jordans. Vogue Magazine in June 2018 launched a new collection with the Jordan brand that had 'AWOK' written on his sole. Now Diet Sabya believed Anamika Khanna's AK-OK was a bit inspired by this AW - OK. Diet Sabya Takes a Dig at Sonam Kapoor Only to Regret it Later.
Knowing Sonam, she hit back at Diet Sabya and commented on his post where she wrote, "Dear Diet Sabya, this is a bit of a reach on your part. I'm a bit disappointed. As a fan of your Instagram page, I hoped for better." While we thought diet Sabya might just indulge in yet another debate creating a controversy on the internet yet again, much to our surprise, Diet Sabya issued an APOLOGY! That's unbelievable but yes, it is true. Taking to Instagram, DS shared a story saying how they pulled down the pic "only out of empathy and not intimidation". FYI: Diet Sabya has apologized ONLY to its followers. Ranbir Kapoor's Sister Riddhima Kapoor Sahni Issues an Apology After Diet Sabya Accuses Her of Plagiarism.
Check out Diet Sabya's apology on Instagram here-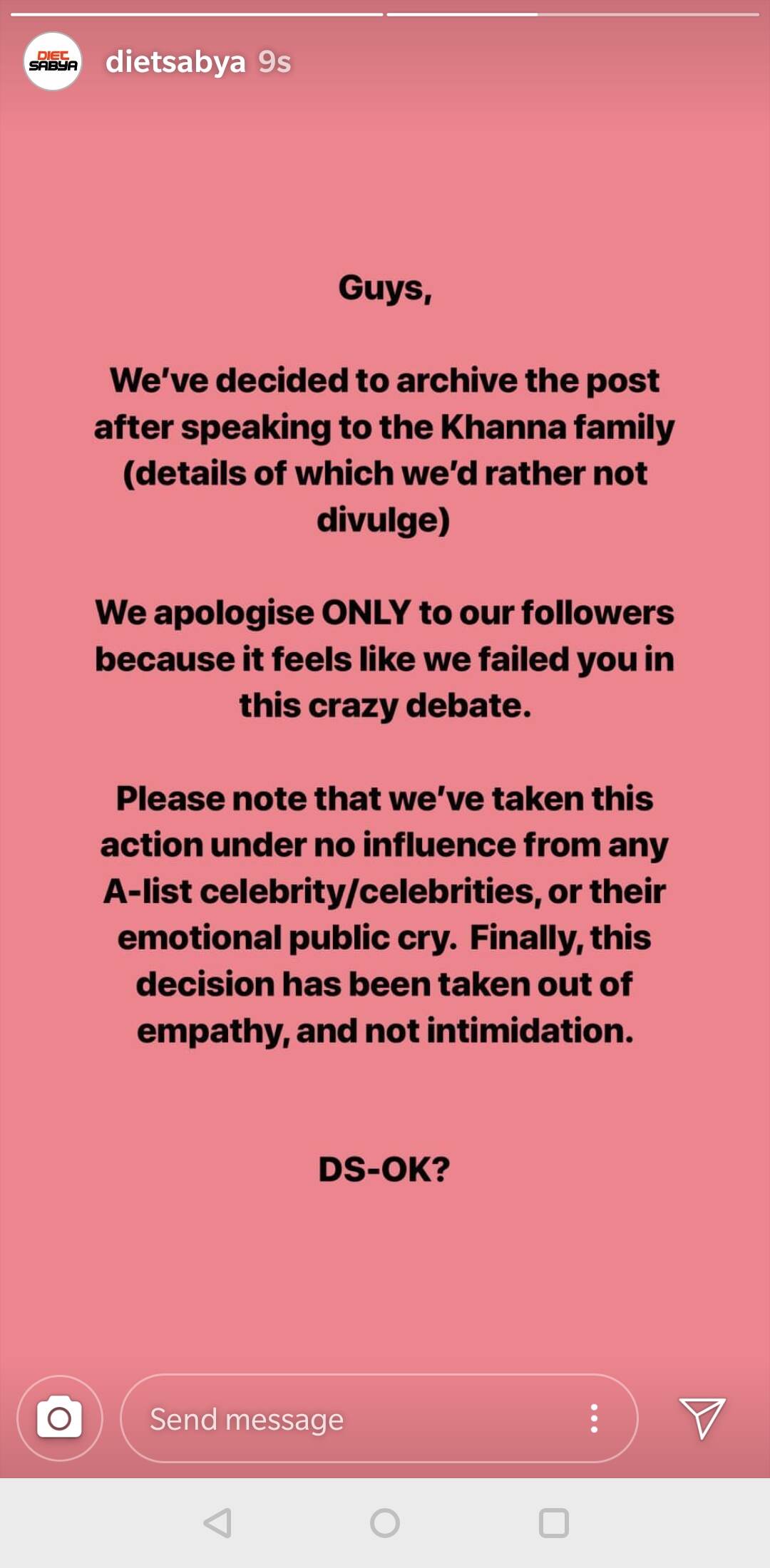 This is the first time when the Instagram page has not only deleted the post but also went on record to actually apologised for one of its posts. Well, we guess Diet Sabya now knows to never ever fiddle with the bosslady! Well, done, Sonam... well done!