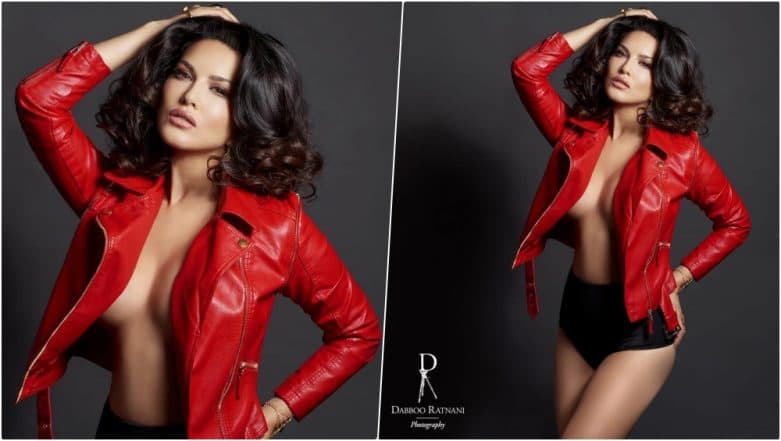 The long wait for Dabboo Ratnani 2019 New Year Calendar to unveil is over. Actress Sunny Leone shared her photo from the 20th edition of Dabboo Ratnani calendar, and it is hot. The 36-year-old sexy glam doll of Hindi cinema industry took to her Instagram to post a red hot still from the glamorous photo shoot. Once again, Sunny is posing topless for the annual calendar. Exposing her cleavage, Sunny Leone does not go fully naked with a red leather jacket to cover her modesty. The Raees girl is also wearing a pair of black briefs in this highly seductive Dabboo Ratnani calendar photoshoot. Dabboo Ratnani's Hottest Calendar Girls: Disha Patani, Sunny Leone, Alia Bhatt, Shraddha Kapoor & Others Pose Topless for Hot & Sexy Photos!
"Here it is everyone!! Love my shot in the 2019 #DabbooRatnaniCalendar @dabbooratnani @manishadratnani make up and hair by @tomasmoucka styled by @hitendrakapopara," writes Sunny while sharing her new photoshoot picture on Instagram. In the behind-the-shot (BTS) video, we had seen the actress don this very same red leather jacket but along with dark denim and black tank tops. The fans were a little sceptical seeing such an everyday outfit, but little did they realise the final photo to be this hot and bold. Dabboo Ratnani Calendar 2019: Shah Rukh Khan, Alia Bhatt, Ranbir Kapoor, Aishwarya Rai Bachchan and Other Celebs Rock the 20th Edition With Amazing Photos (Watch Video).
Topless Sunny Leone in Dabboo Ratnani 2019 New Year Calendar
Sunny Leone has been an attractive addition to Dabboo's most cherished project. The Indian-Canadian actress had first shot for the famous photographer's calendar in 2017, in which she had given a pose similar to the 2019 edition. Sunny was seen wearing a gold sequined jacket with black briefs. Later in 2018, the bombshell showed off her 'bad wifey' avatar as she got dressed in a black monokini with a sexy backless apron and cow boots. That was one hotshot.
Apart from Sunny, the 2019 Dabboo Ratnani New Year Calendar will see other stars such as Abhishek Bachchan, Amitabh Bachchan, Shah Rukh Khan, Aishwarya Rai Bachchan, Janhvi Kapoor, Alia Bhatt, Ranbir Kapoor, Varun Dhawan, Sidharth Malhotra, Hrithik Roshan, Kriti Sanon, Tiger Shroff, Vidya Balan, Farhan Akhtar, and more. Stay glued to this space for more such hot stills from Dabboo Ratnani's calendar.