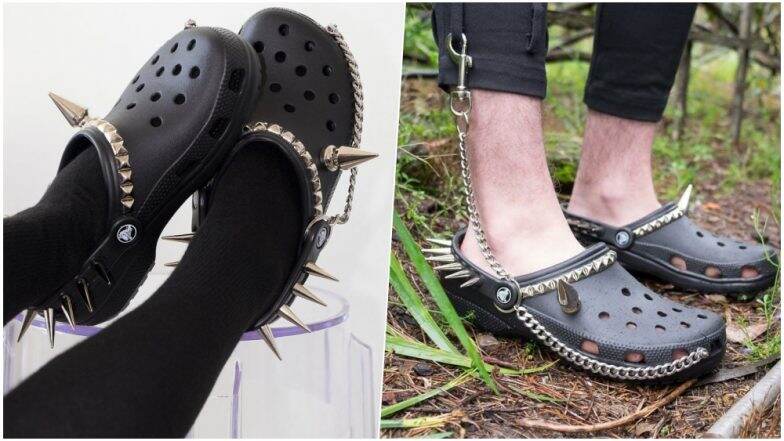 As fashion trends keep changing every few seasons, a new trend has caught up the classic casual shoes, the crocs. The comfortable pair of shoes have got a goth makeover! Goth crocs which have spikes and chains are being sold on the internet and people are loving the new adaption. The shoe has got a hardcore makeover, so its no more casual but typically gothic. The new pairs are now available on online store Etsy and people can't stop praising the goth trend despite its high price. The goth pair is priced at Rs 18000 but the internet is loving them. 'T-Shirt Shirt' for Over Rs. 80 Thousand! Luxury Brand Balenciaga's New Bizarre Fashion Idea Gets Trolled on Social Media.
These goth crocs were designed by @garbage_b0y and are sold by American company Heavey Cream. They are available at different prices depending upon your version of the spikes, chain, or both together. While the basic black shoe costs £190.60 (Rs 17,200), the goth ones cost £206.48 (Rs 18,600). The Goth shoes have an ankle chain made with high sheen stainless steel and the spikes are nickel plated. Janties, New Denim Underwear Gets a Thumbs Down From Twitterati (Check Pics and Tweets).
Check The Picture of Goth Crocs Being Sold Online:
View this post on Instagram
The Goth version has got much appreciation from people. Everyone wants to buy this comfort casual with a gothic appeal. Check how the internet reacted.
Not an April Fools' Prank
April Fools Day and this is NO joke - Goth Crocs are an actual thing! 😳🤮 pic.twitter.com/aYca38Xd7C

— Steve & Karen (@TheSandK) April 1, 2019
Modern-day Cinderella Loves Goth
i will instantly marry any man that gives me the goth crocs you guys don't understand what those shoes mean to me pic.twitter.com/Ala0oY4XD9

— joost (@joceansss) March 31, 2019
Therapeutic
therapist: "goth crocs aren't real, they can't hurt you."

goth crocs: pic.twitter.com/AxHmePeavg

— olivia 60 (@odetosIeepers) March 29, 2019
Punning on Punk-Croc?
the only thing that's upset me more than the phenomenon that is 'goth crocs' is the fact that no one has fucking called it 'punk-croc' yet pic.twitter.com/ZMuM4sXOWP

— sloane (@cottoncandaddy) March 29, 2019
Much Needed
Never have I needed shoes as much as I need those.

— Laura Jean (@laurabellejean) March 31, 2019
these are not something i want. they are something need

— ariana (@alphabet_cityy) March 25, 2019
The shoes have become viral on social media with more and more people loving the goth feel and wanting to immediately own them. Although they are pricey, everyone seems to get their hands or rather their feet in them.