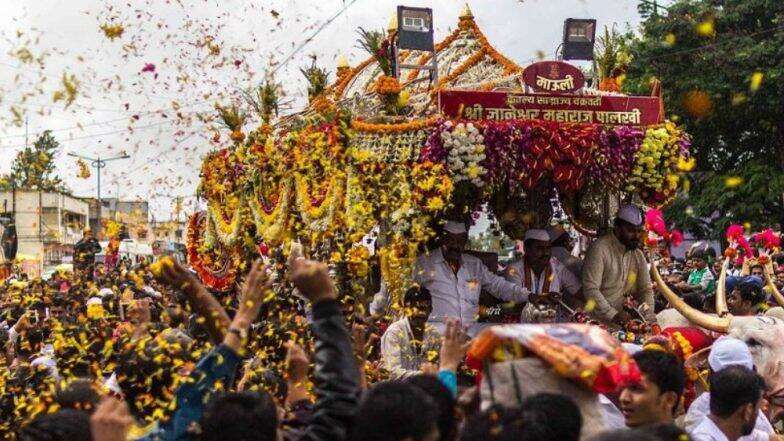 Ashadhi Ekadashi is also known as Shayani Ekadashi, Prathama Ekadashi, Maha Ekadashi, Padma Ekadashi, Hari Shayani Ekadashi and Devshayani Ekadashi. This Ekadashi is primarily celebrated in Maharashtra by Warkari community. On July 11, the processions of Sant Tukaram Maharaj reaches Pandharpur after commencing on June 24. In 2019, Ashadhi Ekadashi falls on July 12.
Pandharpur is the main centre of worship of diety Vitthal, a form of Lord Vishnu. On Ashadhi Ekadashi, lakhs of people come to Pandharpur from across the country. Sant Tukaram's image is carried from Dehu, Sant Dnyaneshwar's image from Alandi and Nivruttinath's from Trimbakeshwar. The pilgrims, also known as Varkaris sing devotional songs of Saint Dnyaneshwar and Saint Tukaram, dedicated to Lord Vithoba.
According to popular belief, on this day, Lord Vishnu goes to sleep and wakes up on Prabodhini Ekadashi, which is four months later. If you are planning to celebrate Ashadhi Ekadashi, then fasting is an important part of it to seek the blessing of Lord Vishnu and attain peace and serenity. Pandharpur Wari 2019: Non-Veg Restaurants, Liquor Shops, Slaughterhouses Closed Along the Route Taken by Sant Tukaram and Sant Dnyaneshwar Palkhi in Pune.
Significance
It is said that there was a king named Mandata who ruled a highly rich and prosperous kingdom. The people in his kingdom were very happy and satisfied. Until, a severe calamity and drought struck the kingdom, which claimed the lives of many people due to starvation and diseases. People started blaming the king for his past sins. Mandata, however, was clueless of his misdeed and decided to go on a long journey to seek the remedy of the drought.
In his journey, Mandata met many wise people and a Sage named Angira who advised him to observe Devshayani Ekadashi vrat. As advised by sage, the king returned to the kingdom and did all the thing. The fast was a success and the condition of his kingdom started becoming normal. Since then, people observe this fast to seek blessings from Lord Vishnu and attain peace, prosperity and happiness in life.
Devshayani Ekadashi Tithi:
Ekadashi tithi begins at 1:02 am on July 12

Ekadashi tithi ends on 12:31 am on July 13

Parana time: 6:30 am to 8:49 am on July 13
Ekadashi fast:
The devotee should take a bath and offer prayers.

Puja should be performed of Lord Vishu and fruits and Tulsi leaves should be offered.

After this, a full day vrat (fast) is observed. Some also observe it partially and consume fruits.
Note: Ideally people don't consume rice or chapatis and sambar, curries, honey etc on Ekadashi.