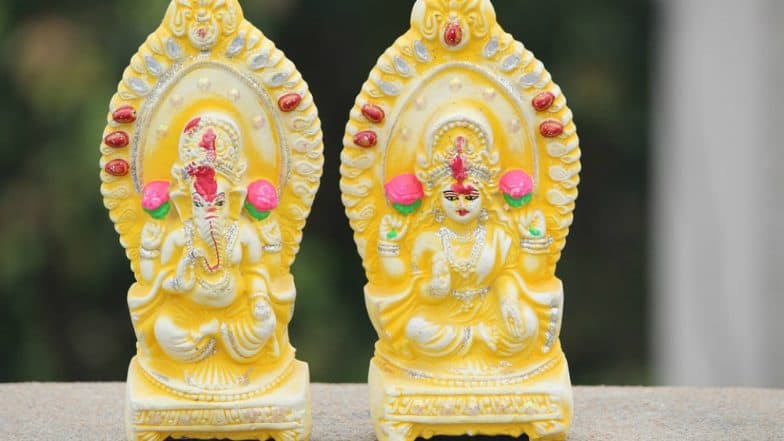 Deepavali 2018 is finally here. Each household is marking the triumph of good over evil by adoring their surrounding with beautiful lights and earthen lamps. On Diwali 2018, you will see families transforming their homes into beacons of light, exchange gifts, share feats and perform puja to Lord Ganesha and Goddess Laxmi for good health and prosperity. As the festival of lights is here, individuals love to chase the scents of floral garlands and incense while browsing through the stalls hawking jewellery, traditional snacks, outfits and ornamental decorations. During Diwali 2018, people engage themselves in devotional songs, perform aartis and gathers to chant Bhajans to worship Goddess Lakshmi and Lord Ganesh. Ganesh Aarti and Bhajans With Lyrics to Chant During Lakshmi Puja. 
Diwali is celebrated to ward off evil forces and bring peace and harmony in the lives of the people. On the final day of Deepavali 2018, revellers adorn themselves in their most elegant clothes, illuminate the interior and exterior of their homes with diyas, offer puja to Goddess Lakshmi—the goddess of prosperity and wealth. Here are the videos of the favourite Laxmi aarti songs along with their lyrics which are performed during the festivity. When Is Dhanteras, Lakshmi Puja, Govardhan Puja and Bhai Dooj? Get Complete Deepavali Holiday Dates.
Om Jai Laxmi Mata
Hindus associate the festival with Lakshmi, the deity of wealth and prosperity and wife of Lord Vishnu. Om Jai Laxmi Mata is one of the popular aartis that individuals sing jointly during Lakshmi puja. Voiced by the famous singer, Sadhana Sargam, this song is played in all the homes during the festivity.
Jai Devi Jai Devi Jai Mahalakshmi
Mahalakshmi Aarti is a Marathi spiritual song which is sung in the praise of Goddess Lakshmi. Devotees chant this aarti in order to please the Goddess who bestows them with her blessings. It has been sung by Sanjeevani Bhelande, and the video contains detail lyrics for individuals to express their devotions with a deep sense of reverence and adoration. Diwali 2018 Decoration Ideas: Easy Diyas & Lanterns to Make and Brighten Up the Festival of Lights. 
Shree Lakshmi Amritwani
In this video, Kavita Paudwal voices Shree Lakshmi Amritwani. During Diwali, many temples host huge gatherings of devotees who express their complete and unflinching love towards Goddess Lakxmi by singing aartis. It is believed that chanting this aarti brings wealth and prosperity in one's life.
Goddess Lakshmi Chalisa
Lakshmi Chalisa consists of about forty verses dedicated to Goddess Lakshmi on the auspicious occasion of Deepavali. Each verse is dedicated to praising the Goddess, and the devotee wants to know when the goddess will remove her devotees' misfortunes. For the sampoorna Mahalakshmi poojan, individuals chant Lakshmi Chalisa. Best WhatsApp Messages, GIF Images, SMS, Facebook Cover Photos and Status to Send Deepavali Greetings. 
The festival of lights, Deepavali is one of the important festivals in India. It is celebrated with great enjoyment and excitement all over the country. Lights and colours make the night of a memorable one. With the mantras and devotional songs, we hope you have a blissful Diwali 2018.