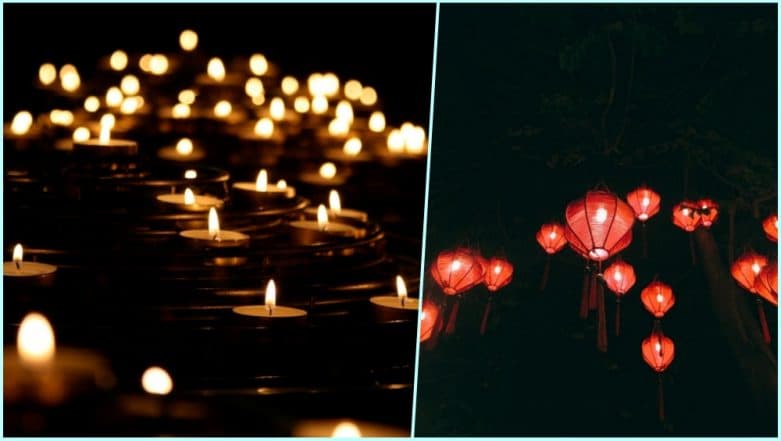 The festival of lights, Diwali 2018 is almost upon us. It is perhaps the most important occasion which is celebrated by individuals from all the spheres of life. This year, Diwali 2018 will be observed on November 7, in most parts of India and on November 6 in the South Indian states of Karnataka, Kerala and Tamil Nadu. As the festival approaches us, there are a ton of preparations lined up. Starting from buying colourful lights to deciding the perfect traditional outfit to different gift ideas to many more and there are a very few days left for the occasion. Out of all the things, the most important attraction for Diwali has always been those beautiful diyas and lanterns. If you are yet to work on the decoration, worry not, as we have compiled videos that will guide you to make some trendy and eye-catchy DIY diyas and lanterns. When Is Dhanteras, Lakshmi Puja, Govardhan Puja and Bhai Dooj? Get Complete Deepavali Holiday Dates. 
Diya is the traditional oil lamps. They play a significant role in Diwali decorations. They are elegant, and when lit they give a peaceful ray of light. While lanterns have recently made their entry and people have wholeheartedly made them a part of their decorations. Diwali is not just about crackers, but family bonding and unleashing the creative creature within you. Look no further and check these amazing DIY videos to give this year's Diwali decorations your personal touch. Surprise Your Family and Friends With These Deepavali Goodies. 
Watch video of DIY Diyas for Diwali 2018
No matter, how much you try to give the occasion a unique spell, Diwali decorations are incomplete without diyas. In the above video, the vlogger has shown five different and quick ways to decorate plain diyas. Get earthen diyas and decorate them with paint, glitter, beads, mirror. Show off your artistic skill and brighten up every corner of your house with the beautiful hand-painted diyas.
Watch tutorial video of DIY Lanterns for Diwali 2018
In the video, the vlogger has provided step by step guidance to make creative and straightforward Akash Kandil or lantern for Diwali decorations. The creativity is super quick and will not take that traditional vibe away during the festival of lights. Lakshmi & Ganesh Idols for Diwali 2018: Different Kinds of Murti You Can Buy Online and Gift This Festival. 
Watch video of DIY Candles for Diwali 2018
Candles also have an importance in the Diwali decorations. In this video, the vlogger has given simple guidance on how to make your candle holders a bit more creative than usual. It is a compilation of different ideas to make DIY Diwali candles.
Watch video of DIY Lanterns for Diwali 2018
The video is a bit old, but the beautiful ideas are what makes it classic. Since, there are a lot in the to-do list, this video in creating the beautiful lanterns is a thumbs up. It is wholly last-minute but is sure to embrace you Diwali 2018 decorations.
The above videos will help you quickly decorate your home. Although the markets are chock-a-block with Diwali decorations, decking out your space with your creations, give a sense of pride. You will be surprised to see how these simple tricks can make your home bright and beautiful. Also, this year, say no to crackers!