Are you excited to welcome 2020? We know we are! This year's 31st December calls for a double celebration, because we are not just bidding goodbye to 2019 but an entire decade. This is why, the celebration of New Year 2020 is a huge deal! The farewell of 2019 cannot be as usual as any other year-end. You need to sort your Happy New Year 2020 wishes first. You can ease out a little as we have compiled the latest Happy New Year 2020 wishes and messages. You can send these HNY GIF Greetings to every close person you know as SMS templates and make their New Year 2020, a memorable one. These New Year 2020 wishes, images and messages are even great to caption your Instagram feed and Facebook posts. In addition, we have provided a direct link to download the Happy New Year 2020 WhatsApp stickers that will make your chat instantly fun! What more do you want to send Happy New Year wishes? We have got, everything covered! Happy New Year 2020 Greetings & HNY Wishes Images: WhatsApp Stickers, SMS, Facebook Quotes, GIF Greetings and Photos to Send on New Year's Eve. 
The vibes of beginning everything with a lot of energy and joy touches everyone. The New Year 2020 is a day and eve that needs to be celebrated with a lot of joy and happiness. Because it is the beginning of the year! Just like the parties and get together, sending New Year wishes to your near ones is also a tradition that people globally follow. What makes it the best is that reading good thoughts automatically brings a smile on your face. And it is a great way to start another year—with positivity and joy! Hangover Prevention Tips For New Year's Eve 2019: How to Party All Night And Yet Not Wake Up Tipsy With A Headache. 
The increasing use of online messaging apps has redefined wishes that we otherwise share during occasions like New Year. Today, it has become easier and better! Our senior generations, who have recently been acquainted with WhatsApp and Facebook, love sharing those forward messages. And why shouldn't they! Now it is time to make those chats more fun, which is when these messages such as Happy New Year 2020 images and wishes come in play. They are perfect for sending greetings on New Year as you welcome yet another decade this time. Hot NYE Events in Mumbai, Delhi and Bangalore to Welcome New Year 2020 in Style.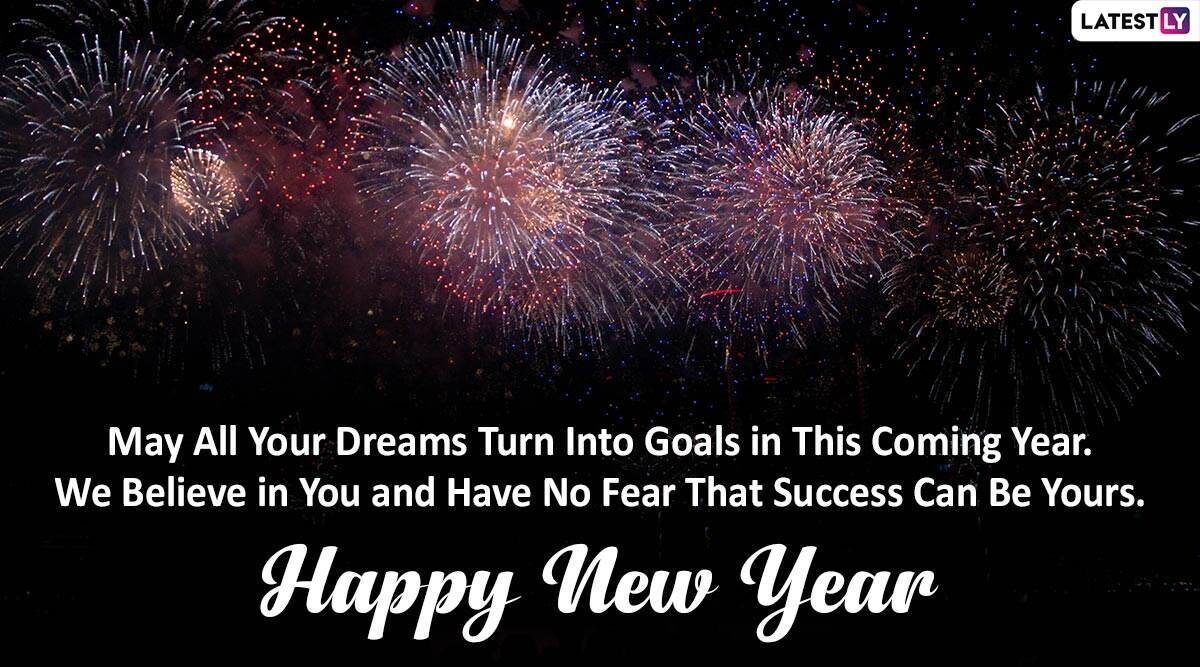 WhatsApp Message Reads: May All Your Dreams Turn Into Goals in This Coming Year. We Believe in You and Have No Fear That Success Can Be Yours. Happy New Year.
WhatsApp Message Reads: Each Year Does End and a New One Begins. May This Coming New Year Be One That Leaves Your Worries Behind and One That Gives You Encouragement and Hope. Happy New Year.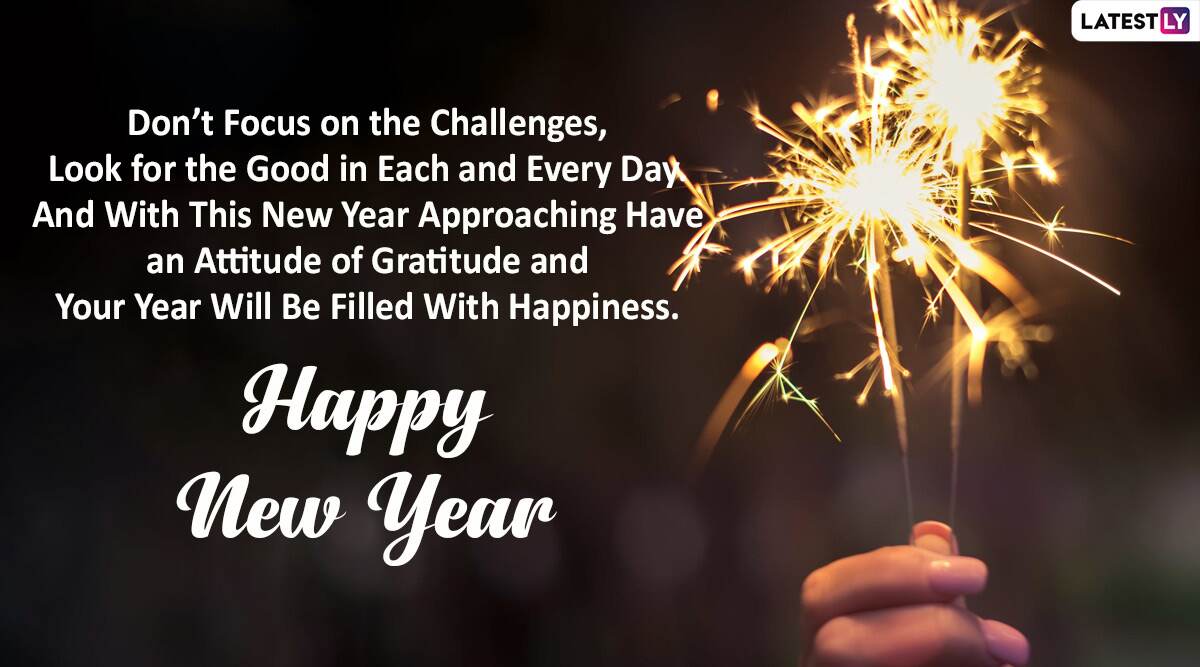 WhatsApp Message Reads: Don't Focus on the Challenges, Look for the Good in Each and Every Day. And With This New Year Approaching Have an Attitude of Gratitude and Your Year Will Be Filled With Happiness. Happy New Year.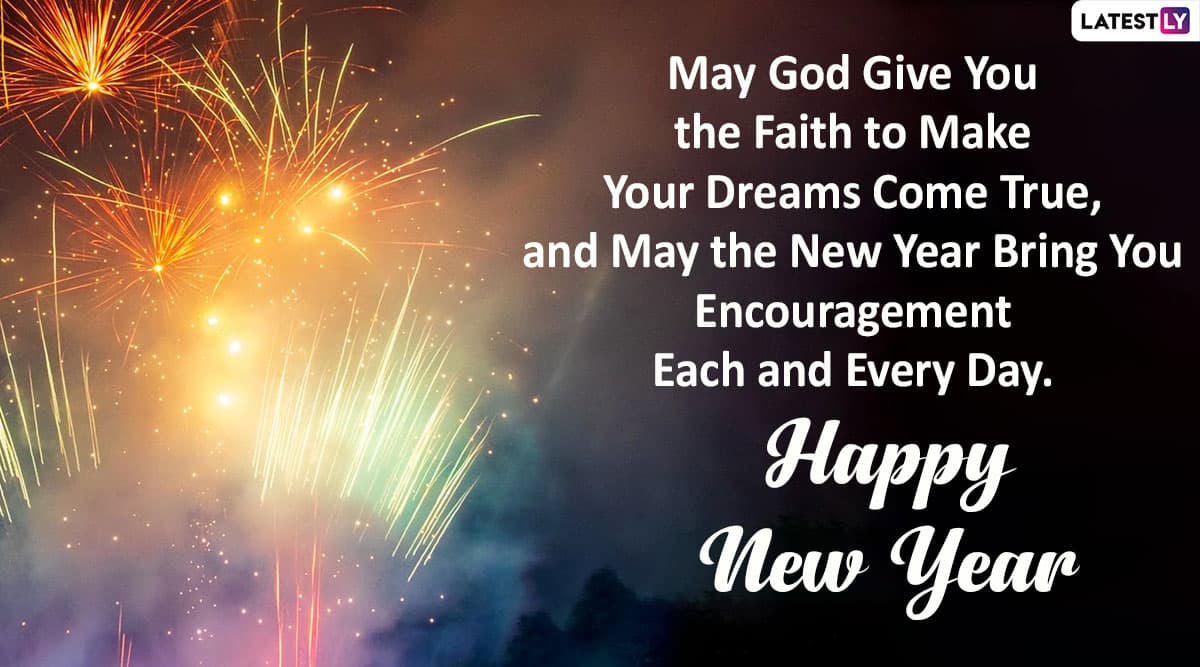 WhatsApp Message Reads: May God Give You the Faith to Make Your Dreams Come True, and May the New Year Bring You Encouragement Each and Every Day. Happy New Year.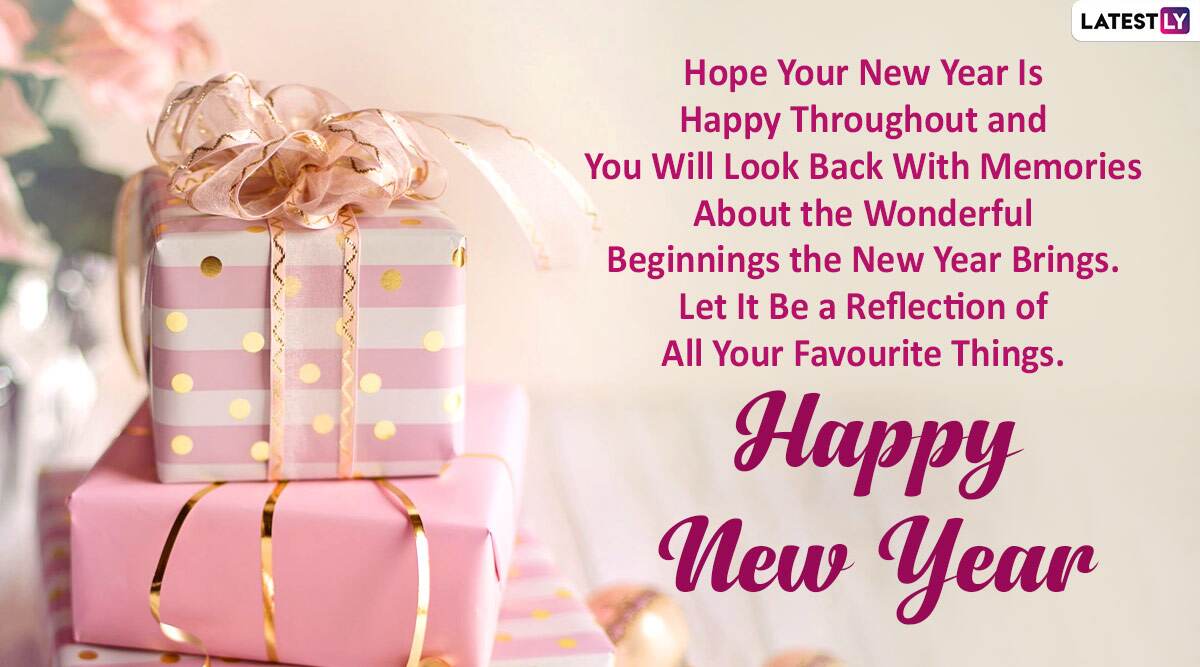 Happy New Year 2020 GIF:
WhatsApp Message Reads: Hope Your New Year Is Happy Throughout and You Will Look Back With Memories About the Wonderful Beginnings the New Year Brings. Let It Be a Reflection of All Your Favourite Things.
How to Download Happy New Year 2020 WhatsApp Stickers?
We are so thankful to WhatsApp. Ever since the Facebook-owned app unveiled stickers, it has given a new meaning to the regular chats. To download HNY WhatsApp stickers, Android phone users need to visit the Play Store app or click here.
These are accurate HNY 2020 messages and wishes that you would want to send on January 1. We hope the above Happy New Year 2020 images will be useful for you as you ring in and welcome another decade of the 21st century!
(The above story first appeared on LatestLY on Dec 31, 2019 12:53 PM IST. For more news and updates on politics, world, sports, entertainment and lifestyle, log on to our website latestly.com).