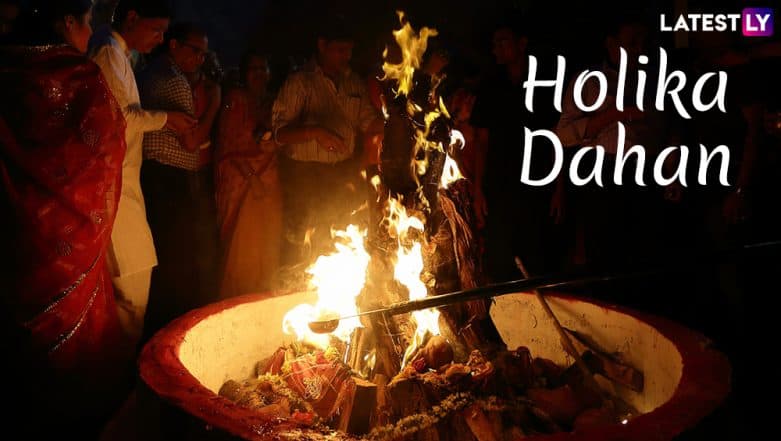 Holi, the Hindu festival of colours will be celebrated on March 21, 2019. One of the major religious celebrations in the country, Holi is hailed as the festival of brotherhood and harmony. The festival known by several names across the states, is primarily a two-day festival – Holika Dahan also known as Chhoti Holi and Holi or Dhulandi, Rangwali Holi, Dhuleti and Phagwah. While playing with colours attracts much attention, Holika Dahan is the time of the festival when people come together to seek blessings from the Supreme One. As is the case with every festival and important ceremony celebration in India, Holika Dahan also brings out excitement among people to wish each other on this festival evening. There's a collection of Holika Dahan images, HD wallpapers, WhatsApp Stickers, GIF greeting messages, Instagram and Facebook photos to wish your family and friends Happy Chhoti Holi 2019. Happy Holi 2019 Greetings: Best WhatsApp Stickers, Dhulandi Messages, Facebook Wishes, SMS and GIF Images to Celebrate the Colourful Festival!
Holika Dahan 2019 date is March 20, a night before the day of playing with colours occurs. Holika Dahan when translated means 'burning of demon Holika' and there is a popular mythological legend associated behind this event. According to Hindu legend, Prahlad, a staunch devotee of Lord Vishnu was saved by the divine one from the devil Holika. You can read the complete story here - Why Is Holi Celebrated? Mythological Stories Behind the Festival of Colours. So, now we know Holi derived its name from this episode of Vishnu killing Holika. People celebrate Holika Dahan by burning a pyre, which is symbolic of negativities and victory of good over evil.
As we near the festivity day of Holika Dahan and Holi, searches such as Holika Dahan wishes, Holika Dahan wishes images, Holika Dahan wishes in Hindi, Holika Dahan wishes in English, Holika Dahan wishes SMS, Holika Dahan images, Holika Dahan story, Holika Dahan quotes, Holika Dahan muhurat, Holika Dahan time 2019, Holika Dahan WhatsApp status, Holika Dahan wallpaper, Holika Dahan WhatsApp stickers, Holika Dahan GIF video, and more increase. While you will find Holika Dahan 2019 Date and Shubh Muhurat: Chhoti Holi Puja Vidhi and Auspicious Timings in India here, you can get everything on Holika Dahan wishes, images and greetings below.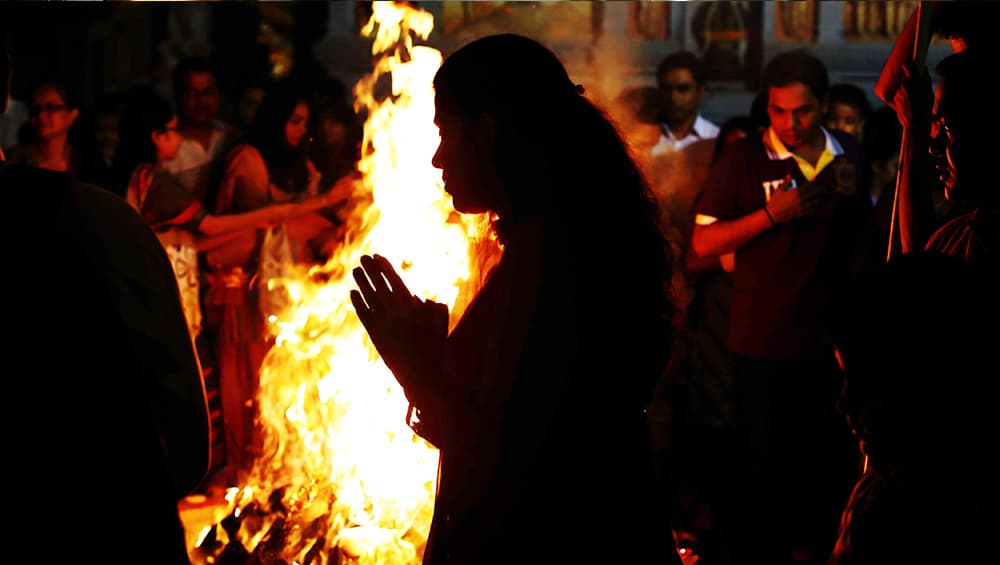 WhatsApp Message Reads: May God Gift You All the Colours of Life, Colours of Joy, Colours of Happiness, Colours of Friendship, Colours of Love and All Other Colors You Want to Paint in Your Life. Happy Holika Dahan 2019.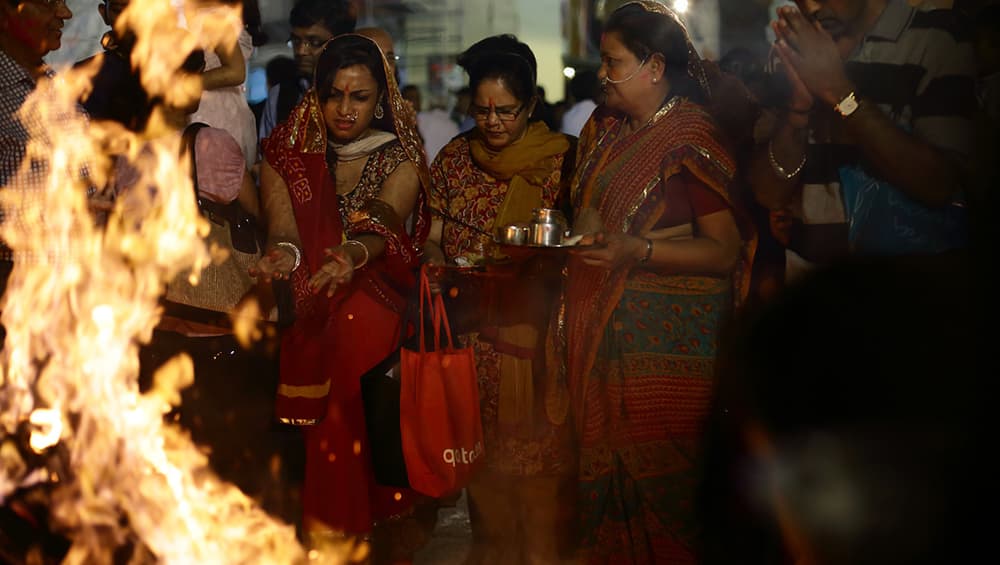 WhatsApp Message Reads: May God Gift You All the Colors of Life, Joy, Happiness, Friendship, Love and All Other Colors You Want to Paint in Your Life. Happy Holika Dahan.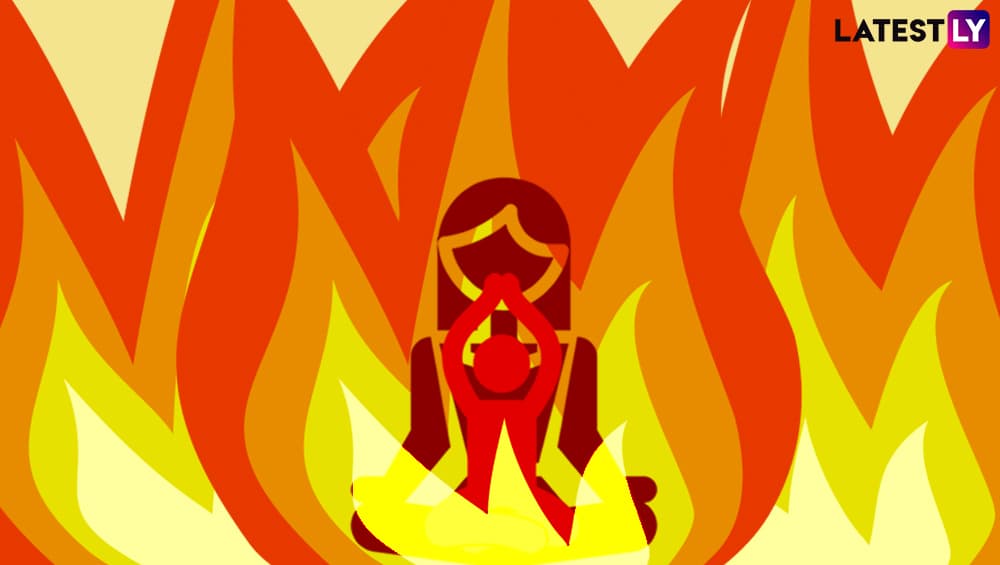 WhatsApp Message Reads: Let this festival burn all negativity and bring positivity in life. Celebrate with VIBRANT COLORS. Happy Holika Dahan 2019.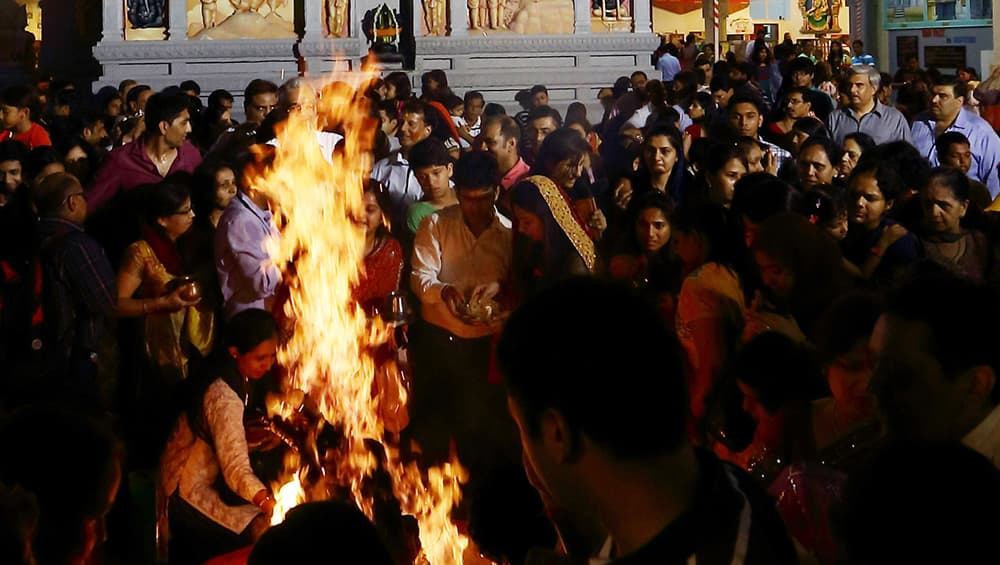 WhatsApp Message Reads: May the Fire of Holi Purify Ur Heart, May the Colors, Color Ur Life.. May the Sweets, Sweeten the Journey of Ur Life.. Wish U and Ur Family Happy Holika Dahan.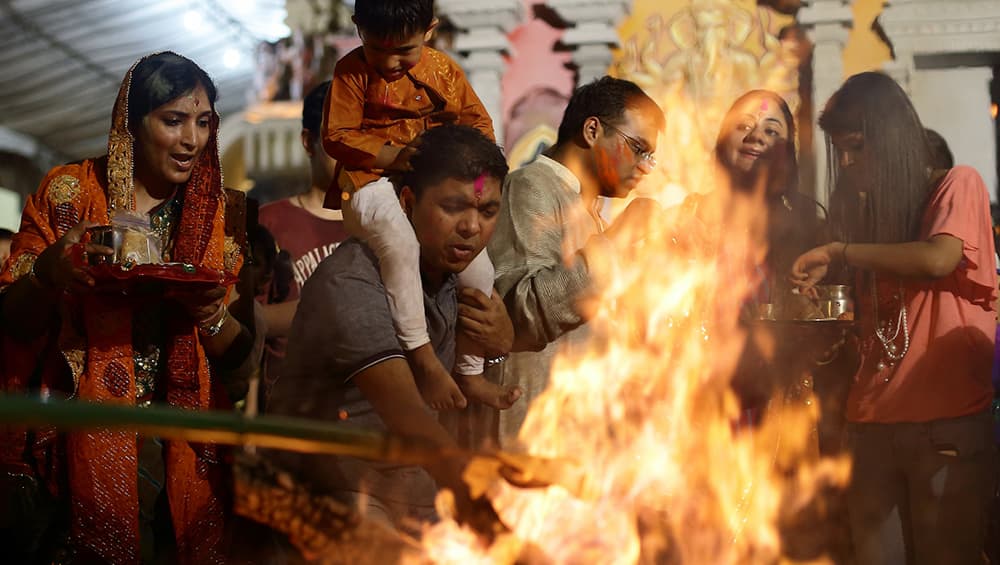 WhatsApp Message Reads: Holi Is the Time to Develop Understanding and Love for Each other. Here, Is a Platform for U All to Renew Ur Friendship and to Express Heart. Happy Holika Dahan 2019.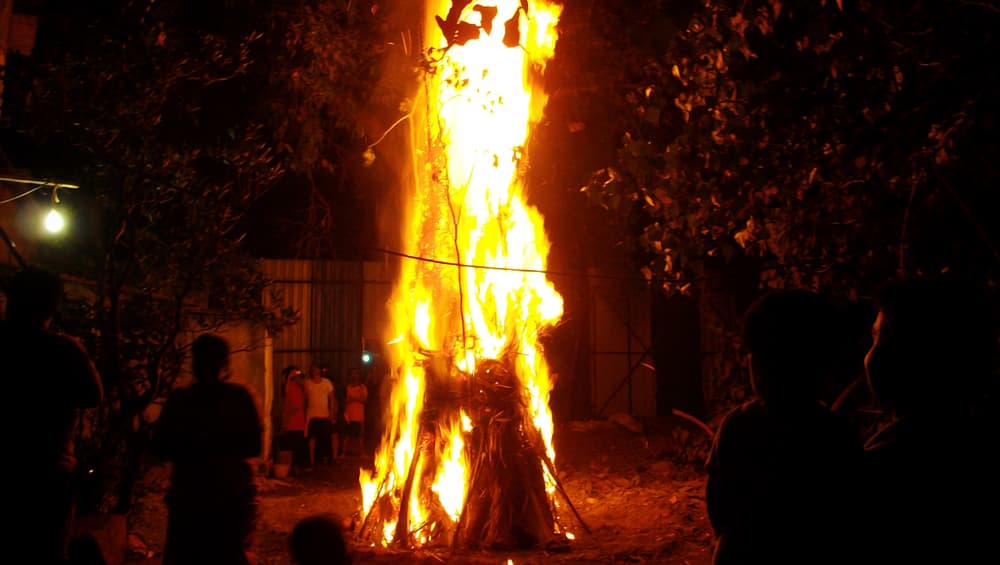 WhatsApp Message Reads: Every Day Needs to Be Colourful, but Seldom It Is. So, Stock Yourself for a Whole Year! Happy Holika Dahan 2019
WhatsApp Message Reads: Holi Is a Special Time of Year to Remember Those Who Are Close to Our Hearts With Splashing Colours! Happy Holika Dahan 2019.
How To Download Holika Dahan 2019 WhatsApp Stickers?
In addition to greetings and images, you can also download WhatsApp Stickers related to Holika Dahan and share with your near and dear ones. You can go for latest Holi 2019 WhatsApp Stickers and Images: Dhulandi Greetings and Facebook Photos to Wish Happy Holi as well as several other links available on Play Store. 
Holi 2019 WhatsApp Stickers to Send Greetings For the Festive Season
Holi is the festival of colours, joy and happiness. There is a sense of togetherness and unity associated with Holi that makes this festival such a delight. People in large number join in to celebrate Holika Dahan, a representation of eliminating negative elements from our lives. And this is followed by Rangwali Holi, when you join in to celebrate with everyone from all walks of life. Holi is simply amazing. We wish everyone celebrating the festival, a very Happy Holika Dahan and a Colourful Holi 2019.